Jurassic World: Dominion Dominates Fandom Wikis - The Loop
Play Sound
"
Cavendish: Welcome to 2175.
Milo: Wow! The future looks amazing!
"

— Cavendish and Milo

2175 is the point in the future from which Cavendish, Dakota, and other B.o.T.T. employees seem to originate from. Set over 100 years after Milo's time, the future holds many differences from the present. 
Inhabitants
Locations
The Bureau of Time Travel seems to operate primarily around this point in time, hosting a large and clearly marked building within the city. It was used as the overall base for the staff Christmas party, which was attended by a large variety of employed time travelers. 
Appearances: "A Christmas Peril"
The Library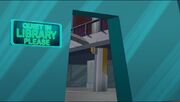 While the library does have a number of shelves lined with books, the immediate source of information appears to be the holographic data array: a device containing a large amount of recorded history, which can be relayed by an A. I. hologram.
Appearances: "Missing Milo"
History
The future is first seen in the episode "Missing Milo", when Milo accidentally hitches a ride with Cavendish and Dakota, whom are going back to 2175 themselves in order to investigate Mr. Block's strange behavior. Upon arriving, they discover the city in ruins and overrun by hostile Pistachions. The defeat of King Pistachion resulted in the healing of the time stream, leaving the future in the same state it had been before the takeover.
Cavendish and Dakota attend a B.o.T.T. Christmas party in the year 2175, where their actions resulted in numerous attempts at ending the party by their 2195 selves, destroying much of the main lobby in the process.
Gallery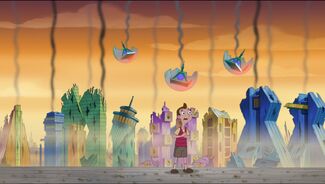 The image gallery for 2175 may be viewed here.
Appearances
Trivia
The apocalyptic version of 2175 had orange skies.