"A Clockwork Origin" is the 26th episode in the first season of Milo Murphy's Law. It aired on September 26, 2017.[1]
Milo, Zack, and Melissa attend a conference held at Vtech Corp Inc. by the company CEO Victor Verliezer. He showcases the robot C.I.D.D., who rampages and escapes, desperately searching for "zero-zero". Milo, Melissa and Zack chase C.I.D.D. down and discover the robot's true creator.
Plot
Milo, Zack, and Melissa visit Vtech Corp Inc., a tech company, to see a new product presented by its C.E.O., Victor Verliezer. After a demonstration of a new robot, C.I.D.D., goes wrong, it escapes and the trio gives chase. They head to a lumberjack festival; Zack is hesitant because of his past with the Lumberzacks. They realize that C.I.D.D was made by someone else, Clyde Rickenbacker, and they see him at the festival. They reunite him and C.I.D.D. but are ambushed by the tech company. They evade him with Zack's faulty app.
They are chased by Victor and his two goons until they reach the building, where it was revealed that Clyde was tricked into giving away his rights to his inventions after he left. The trio live-stream Victor mocking his customers on their phones, causing his company to fail instantly. The trio say their goodbyes to C.I.D.D. and his creator, while C.I.D.D. jokes about the robot apocalypse.
Transcript
For a full transcript of "A Clockwork Origin", click here.
Song
None.
Gallery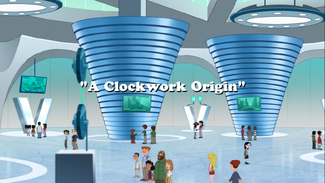 The image gallery for A Clockwork Origin may be viewed here.
Notes
International Airings
February 3, 2018 (Hungary) [2]
October 9, 2019 (Ukraine)
Trivia
The Pinhead Pierre actress makes a cameo again. ("Murphy's Lard", "We're Going to the Zoo")
The one thing Milo likes more than anything else is his family.
Jim is seen in his normal attire again. ("We're Going to the Zoo")

This is also the second time no one cares what he says. This particular time generated certain commotion from a part of the fandom, who started making fanart and sending messages to support him.

The "Repo Man" truck that appears at the end to take away Victor Verliezer's vCarts bears the telephone number (818) 555–0100. 818 is an area code which covers Burbank, California.
Allusions
A Clockwork Orange - The title is a reference to the 1962 novel and the 1973 film.
Apple - Victor Verliezer and his ex-partner Clyde are references to Steve Jobs and Steve Wozniak, founders of Apple Inc. Verliezer's "vPhone" reflects the "iPhone," and the presentation at the beginning of the episode reflects the demos Jobs was famous for.
Errors
When seen in the theater, Concepion is wearing grey shorts and slippers, but in scenes before and after she's wearing her usual sweatpants and black sneakers.
Characters
References