"
That human child could be useful. We'll be back, Milo Murphy!
"

— Alien Commander, "Managing Murphy's Law"

The Alien Commander is an Octalian with an interest in Milo Murphy's negative probability ions.
She is voiced by Joanna Hausmann.
Personality
The Alien Commander has taken a special interest in Milo Murphy due to his enormous amount of negative probability ions, something she hasn't seen since her missing daughter, Orgaluth. Believing someone with so many negative ions would have enough experience to stop the Sphere of Calamity, she is interested in Milo and his ions to the point she's willing to risk damage from Murphy's law to study it better. Initially, she argues against the Alien Pilot's cautious attitude when she wants to gather more intel.
She appears to be a stern, no-nonsense leader who would do anything to save Octalia from the Sphere and get Milo to help her do so. She seems to be the least scared out of the other Octalians, in spite of her own fear for the Sphere of Calamity, and therefor appears to be annoyed that her company stuck her with such a cowardly crew. When Loab and Khone failed to retrieve a tissue sample of Milo, the Commander, disappointed in her crewmembers' cowardice and incompetence, decides to take action and retrieve the sample herself, getting sick in the process. When an afraid Milo is stuck in the Octalian ship's vents alongside four other Octalians, and the rest of the crew (Dorsal in particular) start to believe in crazy theories about Milo being a monster, the Alien Commander takes none of the fearmongering for granted and presses on, only beginning to fear when her contact with the Octalians in the vents start to disappear one by one.
She and the Octalians were first introduced from a more seedy perspective, with a mysterious goal that would appear her as a villain much like the Pistachions and their king. However, she is actually a nice and motherly alien. When she receives a hug from a sick Milo after she shapeshifted into his mother, the Octalian couldn't help but give in, accidentally reverting herself back to her true form, and appears to be reminded of her own child. When she hears from Milo that a girl is wandering within the Sphere, she is elated and relieved that Orgaluth is alive and well, having believed that the Sphere had somehow consumed her, and her vigor to get Orgaluth out of the Sphere of Calamity has returned in full force, eventually helping Milo and friends towards the Sphere alongside other Octalians.
Physical Appearance
The Alien Commander is a bright magenta Octalian with black eyes, teal lips, and similarly colored eyelids. She wears an outfit slightly different from her subordinate Octalians, being a deep violet with red highlights, rather than blue with red highlights. Also, unlike the red collars of her subordinates' outfit, the Commander's outfit has a double turtleneck line with red lines and a spot, as well as a kite-shaped cravat.
History
In "Managing Murphy's Law", she is in the middle of a routine scan of the planet when their ship gets too close to Milo Murphy, attracting their attention to the unusual amount of Negative Probability Ions he has. After gathering some Intel, she decides they will return later.
In "Milo's Shadow", she happens to see Balthazar Cavendish as he shouts aloud about the existence of aliens. Deciding he knows too much, she gives the instruction to 'remove him from the equation'.
In "Sick Day", she sends Loab and Khone on a mission to gather a tissue sample from Milo Murphy. After they fail, she goes herself and succeeds.
In "Abducting Murphy's Law", she abducts Milo Murphy, only for him to escape into the vents of the ship. She sends four Octalians in to search for him, listening to their reports as they 'disappear' one by one. The missing Octalians reappear before she can go after them herself, and she gets the opportunity to meet Milo under better circumstances. She is shot off in an escape pod alongside the other Octalians before she can bring Milo across the universe.
In "Milo in Space", she gives Khone and Loab their mission, expressing annoyance when Khone leaves in an escape pod instead. She escapes each of the destroyed ships alongside Loab and Milo, congratulating Loab when the plan succeeds, only to ask Milo for help when their final ship begins falling apart. When the crisis is averted, she decides to show Milo the reason they'd abducted him, only for the ship to receive major damage immediately after.
Gallery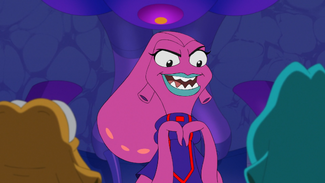 The image gallery for Alien Commander may be viewed here.
Quotes
"I haven't seen a buildup of negative probability ions like that since... follow that human!"
—Alien Commander
"Okay, enough Intel! Get us away from that kid!"
—Alien Commander
"That human child could be useful. We'll be back, Milo Murphy!"
—Alien Commander
"Ugh, why did this company stick me with such a cowardly crew?!"
—Alien Commander
"That better not be one of my throw pillows."
—Alien Commander
"Enough, that is nonsense! Now, we're just going to have to send you brave men into the vents to find him."
—Alien Commander
"He's even more impressive then we'd observed! He's the one! Our only hope! We need to get Milo Murphy to the other side of the universe."
—Alien Commander
"...Which is why we brought six ships! And you two will be in charge of moving him from ship to ship to ship. Like, if one blows up into smithereens, you just move him to the next one, until that one blows up into smithereens... I can count on you, right?"
—The Alien Commander to Loab and Khone
Appearances