Athledecamathalon is the 14th episode in the first season of Milo Murphy's Law.
Episode Synopsis
The gang participates in a school event that combines the Academic Decathlon and the Athletic Decathlon.
Plot
Milo and his comrades are surprised to learn that their school's academic and athletic decathalons have been combined into a single event by Kyle Drako, who also oversees the event. To their chagrin, the mixed group of athletes and academics find that the opposing team has been aware of the event for three months, leaving them fully prepared. As a result, they quickly take the lead in the competition, leaving Milo's team in the dust. Meanwhile, Martin and Brigette Murphy come to the school to drop off some items for Milo (including his body armor) and end up searching for a Soccer trophy Martin won in his youth.
Thanks to Murphy's Law, the field on which they are competing is left a ruin, though Milo is confident that this actually improves the group's chances due to his experience with such setbacks. The two teams then face the final event, making their way over the field to various computer terminals in order to answer questions. Little by little the teams are worn down until only Milo and the other team's captain remain, with Milo triumphing due to Melissa's knowledge of trivia. Meanwhile, Martin inadvertently causes some damage to the school while on his search for the trophy, and he and Brigette leave before more is caused.
Transcript
For a full transcript of "Athledecamathalon", click here.
Songs
Gallery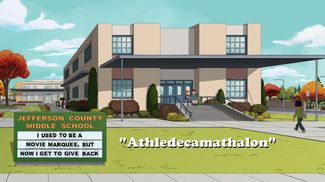 The image gallery for Athledecamathalon may be viewed here.
Notes
International Airings
March 23, 2017 (Disney Channel Latin America)
April 23, 2017 (Disney Channel Japan)
June 2, 2017 (Southeast Asia)
August 6, 2017 (Disney Channel Israel)
Trivia
Allusions
When Mort clings to the edge of a crevice before falling in, he says "Fly, you fools!", a clear nod to a similar scene from The Fellowship of the Ring.
Mr. Drako being a teacher to the main characters and having an ex-wife is a possible allusion to Mr. Goldenfold, a character from Rick and Morty.
Errors
In Mr. Murphy's flasback, he makes a winning soccer move with one kick, yet he imitates it with multiple kicks.
When Milo's team is celebrating their victory, Zack's left foot is superimposed on top of his right foot.
During the Javelin geography contest, South Sudan is still seen as part of Sudan.
Characters
References
Community content is available under
CC-BY-SA
unless otherwise noted.