Buford Van Stomm is a neighborhood bully who is a friend of Phineas Flynn and Ferb Fletcher and frequently takes part in their big ideas. He appears in the "The Phineas and Ferb Effect".
He is voiced by Bobby Gaylor.
Personality
Buford has a harsh personality, having offered Baljeet as a sacrifice to the Pistachions.
Physical Appearance
Buford is a stocky boy with pale skin, deep blue eyes, and obvious freckles. His hair is a short, dark brown buzz-cut, and a single tooth sticks out over his upper lip, even when his mouth is closed.
He wears a black short sleeve shirt with an upturned collar and a stylized grey skull on the front. He has brown shorts, with a single strap hanging on either side. Finally, he wears a pair of heavy red boots with darker red soles and grey laces.
History
He is Danville's local bully, yet he is very good friends with Phineas Flynn and Ferb Fletcher and enjoys taking part in their big ideas.
Recent Events
In "The Phineas and Ferb Effect", Melissa and Zack met Buford, alongside Baljeet, in a Pistachion prison. Eventually, the four of them broke out together and ran into the rest of their friends, where they went on to find a way to weaponize Murphy's law. Before long, Buford accidentally got everyone captured by Pistachions, and ends up being turned into a Pistachion himself, but is eventually returned to normal when the Pistachions are defeated.
Gallery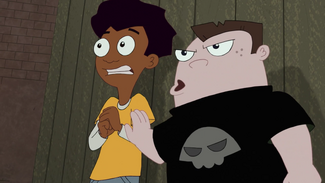 The image gallery for Buford Van Stomm may be viewed here.
Quotes
"Don't worry, I got a plan! Here! We offer our nerd in sacrifice!"
—Buford Van Stomm
"Hey, guys! Need a hand?"
"Oh, I get it! That's an actual hand!"
"We got it, Buford!"
—Phineas, Buford, and Baljeet
"What'd I tell ya? Weaponize it! Montage time!"
—Buford Van Stomm
"I promise I'll never eat at a salad bar ever again!"
"You never do anyway."
"Yeah, but they didn't know that till now, Mr. Blabby McMouthenson!"
"That is not my name!"
—Buford and Baljeet, trying to reason with the Pistachions
"What do you mean "always"? That never happens! When in the history of the Universe, other than this time, has that ever happened?"
—Buford Van Stomm
Appearances
Season Two
Trivia
He is one of the few characters whose teeth are animated individuality along with Bob Block.
External links