"
I present to you an invention that will change everything forever: the Cybernetic Individual Domestic Droid, or C.I.D.D.
"

— Victor Verliezer, "A Clockwork Origin"

The Cybernetic Individual Domestic Droid or C.I.D.D. is an A.I. all-purpose robot. He was co-created by Clyde Rickenbacker and Victor Verliezer, but Victor has since taken credit for his creation.
He is voiced by Maulik Pancholy.
Personality
This artificially intelligent machine is loyal, polite, and friendly. It deeply cherishes its initial creator, Clyde Rickenbacker, and does everything in its power to escape the clutches of Victor Verliezer to return to him.
Physical Appearance
C.I.D.D. is mostly white, and he moves around on a single wheel. He has bright, computerized green eyes, two small electronic antennas, and arms with clamp-like hands. His chest panel sports a blue square, and there are two smaller blue circles beneath it.
History
In "A Clockwork Origin", C.I.D.D. escaped from Victor Verliezer and immediately went looking for his creator, Clyde Rickenbacker, who he calls "Zero-Zero".
In "The Ticking Clock", C.I.D.D., along with Clyde, Milo, Melissa, and Zack, tried to repair Ol' Bessie by 5 p.m., so it wouldn't be taken down by Victor Verliezer.
Relationships
C.I.D.D. is close with Clyde, and calls him 'Zero-Zero'. In spite of Victor's many memory wipes, C.I.D.D. always remembered his early days with Clyde and went through great lengths to be reunited with the inventor. He was very happy to finally see him again.
C.I.D.D. does all he can to escape Victor's terrible treatment and reunite with Clyde instead. While in Victor's possession, C.I.D.D. did as he was told, even failing to defend himself when the businessman hit him with a hockey stick.
He told Milo that he'd remember them when the robots take over the world, but promptly claims it was just a joke.
Gallery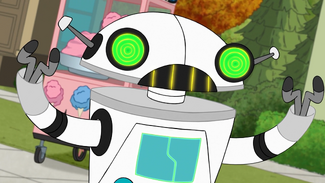 The image gallery for C.I.D.D. may be viewed here.
Quotes
"Zero-zero"
—C.I.D.D., referring to his creator - Clyde
"Hello, Doctor Verliezer. Hello, everyone. I am C.I.D.D."
—C.I.D.D
"C.I.D.D. can't be knocked down! And so advanced, he actually feels pain while I hit him! And he can multitask. He can juggle, do your taxes, and make a perfect soufflé."
—Victor Verliezer
"Help me! Help me!"
—C.I.D.D.
"Thank you, Milo Murphy. I will remember you when the robots take over the world! Ha ha ha! Psych! Just kidding! Ha ha ha!"
—C.I.D.D.
Appearances
Season One
Season Two
Trivia