Charlene and Sharon Brulee
Gender:
Female
Age:
Near Milo's age
Charlene Brulee and Sharon Brulee are a pair of identical twin sisters who appear in "Family Vacation". They are the daughters of Mr. Brulee and Mrs. Brulee.
They are both voiced by Romi Dames.[1]
Personality
The twins share nearly identical personality traits and tend to react to their situation in a manner indistinguishable from each other. They are both bored by the thought of spending yet another trip at the grand canyon and express this boredom out loud. They find Milo's calm demeanor and past adventures exciting, and quickly begin to look to him for excitement. The twins are thrilled upon receiving their own action sequence.
Physical Appearance
The twins are completely identical in appearance, with light skin and green eyes with visible eyelashes. Their hair is shoulder length and orange, ending in fluffy tufts.
Even their outfits are identical, with light purple shirts that have darker purple designs on the sleeves and collars and bows around their waists. They wear matching shorts and fancy shoes with long white socks that have stripes at the top. They are only distinguishable from each other by their hair accessories. One wears a bow while the other wears a hair clip with a heart decoration.
Relationships
They are close with their parents but get annoyed knowing they're going to the grand canyon yet again. At the end of the adventure, they happily hug their parents.
They appear to have an infatuation towards Milo because of how calm he is during disasters, and express excitement over how "dangerous in a sweater vest" he is.
Gallery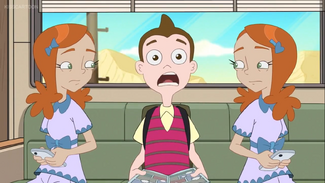 The image gallery for "Charlene and Sharon Brulee" may be viewed here.
Quotes
"I'm sorry identical apples of my eye, we got a schedule to keep!"
—Mr. Brulee
"He's so dangerous..."
"...In a sweeter vest."
—Twin #1 and Twin #2, About Milo
"We're having the kind of vacation no one in our family could have imagined!"
—One of the Twins
"We've never had our own action sequence before! Best vacation ever!"
—Brulee Twins
Appearances
Season One
Season Two
Trivia
References
Community content is available under
CC-BY-SA
unless otherwise noted.