The Chase residence is the home of the Chase family, consisting of Richard Chase and his daughter Melissa.
House
The house is a tidy, single story home with a basement. It has a large front yard and a two car garage.
Melissa's Bedroom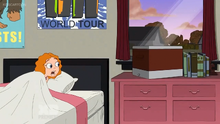 Melissa's bedroom is on the first floor of the house. It has light colored walls and a deep red curtain over a window overlooking the neighborhood. There is a black windowsill under the window, matching the headboard of Melissa's bed.
She has a large pink dresser, matching the color of both her quilt and the skirt she typically wears. A number of books are kept on top of the dresser, and there are posters on the walls.
Basement
The basement looks bleak and generally unpolished. There are a number of boxes and bins stored underneath the stairs, and a heavy, industrial door marked with a 'keep out' sign leads to a room containing all of Melissa's collected data on Murphy's Law. The door is locked tight with heavy chains.
Data Room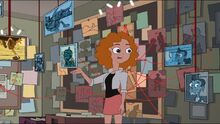 In the basement of the Chase residence, Melissa keeps a locked room full of data; all of the information she's collected on Murphy's Law. While the room itself is pretty plain, it is chock-full of pictures of Milo, written notes on EHML, and objects she'd collected from him over the years.
History
This house is first seen in "Sunny Side Up". Melissa is seen waking up in her room, she then sees the cooler with the egg and that it has been broken. It turns out it was just a dream.
In "We're Going to the Zoo", Melissa is seen in a paddling pool in a black swimsuit and wearing sunglasses. This may or may not be in her backyard.
In "Missing Milo", Melissa shows Zack and Sara that she has a room devoted to Milo, filled with photos of their adventures. Her goal is to understand more about Murphy's Law. Many of the images also appear to have Cavendish and Dakota in the background.
Gallery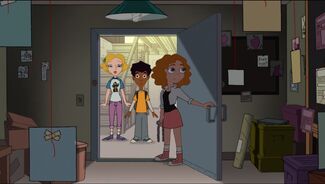 The image gallery for Chase Residence may be viewed here.
Appearances