"
I'm a good inventor, but I'm a terrible businessman. I just don't know the value of a dollar.
"

— Clyde Rickenbacker, "A Clockwork Origin"
Clyde Rickenbacker was Victor Verliezer's old business partner. While he is a kind person and a brilliant inventor, he has no gift for business.
He is voiced by Barry Bostwick.
Personality
He is an imaginative genius, being able to create a robot with a personality nearly indistinguishable from a human. He is also kind, thinking of his robotic creation as a dear family member rather than a machine made for profit. Even so, he is hopeless in business and financial matters, to the point that he needed to be constantly reminded of how many cents are in a dollar.
Physical Appearance
Clyde has dark eyes, fluffy, light grey hair, and a thick beard. He wears a deep purple sweater over an off-white collared shirt and a pair of light brown pants with visible seams. His shoes are dark brown, with darker colored soles and lighter laces, alongside a pair of round, wireframe glasses.
History
In "A Clockwork Origin", it is revealed that he was the true creator of C.I.D.D., but lost the legal rights to him to Victor Verliezer, being very bad at business. Victor then tried to take all the credit for creating C.I.D.D. Victor lost his corporation, V Tech, after chasing down Clyde and C.I.D.D. and being recorded saying bad things about the public by Milo and his friends. Afterward, Clyde was free to be with C.I.D.D.
Relationships
Victor was formerly his business partner before Clyde ignorantly signed away the rights to all of his inventions, the most important being C.I.D.D., who went on to receive terrible treatment from Victor. In spite of all this, Clyde is more concerned with his robot's wellbeing then Victor's offenses.
Even now they bring up old arguments, with Victor getting irate when he finds out that Clyde still doesn't know the literal value of a dollar.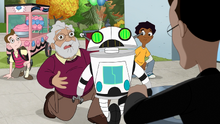 C.I.D.D. is a very dear friend to Clyde, and the two of them are close. He was the one to teach C.I.D.D. to juggle, and even when Victor tried time and time again to erase C.I.D.D.'s memories of Clyde, the memories always returned, to the point the robot ran off to find the person he called his 'origin'. Clyde was delighted when C.I.D.D. returned and did his best to fend off Verliezer's attempts to get the robot back.
Clyde met Milo and his friends at the lumberjack festival, where they helped reunite him with C.I.D.D. before escaping Verliezer together.
Gallery
The image gallery for Clyde Rickenbacker may be viewed here.
Quotes
"Let go of him! I built C.I.D.D., and you know it!"
—Clyde Rickenbacker
"You can erase his memory a million times, but those early days we spent together when I taught him to juggle, those are burned into his hardware, and you'll never get him to forget me."
—Clyde Rickenbacker
Appearances
Season One
Season Two
Trivia
C.I.D.D. calls him 0-0 (Zero Zero) because, as his creator, Clyde is his origin.
Clyde is voiced by Barry Bostwick, who previously voiced Phineas and Ferb's maternal grandfather, also named Clyde.