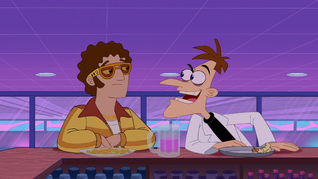 Vinnie Dakota and Heinz Doofenshmirtz are recent aquantences who spend time together. The two have similar habits, such as eating constantly.
Dakota's opinion of Doofenshmirtz
Dakota has a somewhat mixed view of Doofenshmirtz. While he gets along with Doofenshmirtz most of the time, he is also frustrated by Doof's laziness and odd habits. However he finds consulince in Doof after Cavendish leaves. He finds himself constantly having to check on Doof to make sure he's not messing with anything.
Doofenshmirtz's opinion of Dakota
Doofenshmirtz often spend time with Dakota since his falling out with Perry the Platypus. He enjoys spending time with him and even accompanies him on the job. However his laziness and poor planning skills often interfere with these acts of generosity.
Gallery
The image gallery for Dakota and Doofenshmirtz's Relationship may be viewed here.
Trivia
Both characters are voiced by Dan Povenmire, co-creator of both their shows.
Community content is available under
CC-BY-SA
unless otherwise noted.