Daniel Kingsley "Dan" Povenmire[1] (born September 18, 1963) is an American television director, writer, producer, storyboard artist, and voice actor associated with several animated television series. He co-created the Disney XD cartoons Phineas and Ferb and Milo Murphy's Law with Jeff "Swampy" Marsh.
Povenmire was previously known for his work on The Simpsons, Rocko's Modern Life and Family Guy. On the latter, he was a well-loved animator and was given many of the show's musical numbers to do. He was also counted on to animate "something funny" when writers couldn't come up with a visual joke on their own.
Early life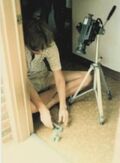 Dan was born in California but raised in Mobile, Alabama. Dan was a very creative child; during the summers, his mother always told him and his siblings that "Summer didn't last forever" and to experience every minute of it."[2]
Dan did so, taking an interest in filmmaking and constructing his own mini-films with his Super 8 film camera Super 8 camera. A childhood prodigy in art, as when Dan was two, he started to draw, and by age ten he was displaying and selling his work in art shows.[3] His inspirations animation-wise growing up were The Rocky and Bullwinkle Show and Looney Tunes.
Education
Dan attended the University of South Alabama, concurrently making a living waiting tables and acting. He also started a comic strip. He was interested in filmmaking, so he left that university and transferred to the University of Southern California (USC). There, his comic strip Life is a Fish became a hit, though not without struggle; when he first pitched it to Daily Trojan editor Mark Ordesky, Ordesky practically "brushed him off." After seeing Povenmire's portfolio, he asked Povenmire to start making the strip for the paper.[3]
Milo Murphy's Law
On May 7, 2015, it was announced that after Phineas and Ferb concluded its run, Dan, Swampy, and many other people on the Phineas and Ferb crew would work on a new series, Milo Murphy's Law. The series premiered on October 3, 2016, a little over a year after Phineas and Ferb aired its series finale.
Milo Murphy's Law has a crossover between Phineas and Ferb in its second season. Milo Murphy's Law is canonically set in the same universe as Phineas and Ferb.
Episodes he directed
Episodes he wrote
Personal life
Dan is married. He has two children.[4] and a cat named Sprocket, who appears to be the inspiration for character Perry the Platypus.
Gallery
Milo Murphy's Law
Real World
Trivia
He can be seen (animated) in "Battle of the Bands", "The Race", "Pace Makes Waste", and "The Goulash Legacy"
He wrote 50-100 songs for Milo Murphy's Law.

(citation needed)

Despite his full name being Daniel Kingsley Povenmire, his driver's license displays his name as Dantible Farumbi Povenmire[5]. In a livestream, Dan Povenmire has clarified that his first names are in fact Daniel Kingsley, and that it's a long story why he has a license that displays the first names "Dantible Farumbi".

(citation needed)
References
External links