Don't Break Me is the second song of the series, heard in the episode "Sunny Side Up", while Milo, Zack, and Melissa try to create a structure which could save an egg from breaking after being dropped from the gym's roof.
Lyrics
You best be careful how you handle me,
I'm not as sturdy as you think.
You're too in touch with your adrenal gland, you see,
I don't wanna be your weakest link.

Hey, (Hey!) don't break me.
Don't wanna crack in my facade,
Keep your wild abandon to yourself.

Hey, (Hey!) don't break me.
Don't wanna be your lightning rod.
Like the view just fine here from the shelf,
So, baby, please don't break me.
(Hey!)

(Hey!)
Please don't break me.
(Hey!)
Ha!

(Hey!)
Please don't break me.
(Hey!)

Mmm
Gallery The image gallery for Don't Break Me may be viewed here.
Chords
Note that the information and chord chart below was created by an editor.
If you find an error you may correct it or post a message to the editor who uploaded the chart on their message board and it will be addressed.
I found this one to be tricky because of the pauses when singing the lyrics. I'm pretty sure I have the chord changes in the right place. The main thing is the chords go, Em 2 3 4, D 2 3 4, Em 2 3 4, D 2 3 4, ext. through the whole song except For the G, B7 part.
I'm not 100% sure about the B7. Strict adherence to the key of E minor says it should be Bm, but that doesn't sound right. Also, to play this the way it's heard in the episode you need to tune to D. (I've posted it in standard tuning) and play the D a whole step down from the Em rather than almost an octave higher.
On keys the left hand is playing the Em and D chords while the right is playing the following notes;
E,
B, A,
D, E,
B, A, G, F#, D,
E,
B, A,
D, E,
B, A, G, F#, D,
E, over and over again.
Chord chart for guitar;
Due to the way wikis display text it is necessary to convert chord charts to an image so the chords will line up above the text where the chords occur.
These images often display poorly on wiki pages.
If you open the image, choose "See full-size image" and then save it to your computer, you can print the chart. It will print at a much higher resolution than what appears here.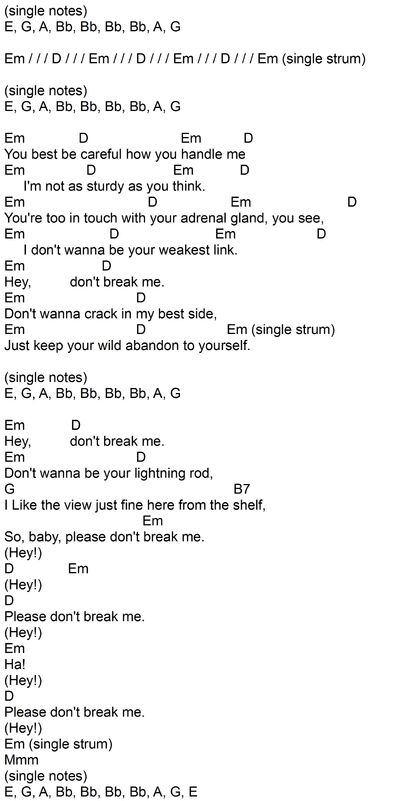 Songwriters
BMI Work #24029344
See also
Community content is available under
CC-BY-SA
unless otherwise noted.