Jurassic World: Dominion Dominates Fandom Wikis - The Loop
Play Sound
"
— Why can't I knock you over?! I've got like, twice your body weight!
— I'm a middle school principal.
"

— Coach Nolan Mitchell and Principal Elizabeth Milder wrestling, "Some Like it Yacht"
Principal Elizabeth Milder is the principal of Jefferson County Middle School.
She is voiced by Mackenzie Phillips.
Personality
Elizabeth Milder is a very calm, controlled person who attributes some of her strength to the fact that she is a middle school principal. She often seems very cynical towards the people and situations around her.
She has many 'I knew a kid' stories that she uses to give warnings, although the stories themselves don't seem to have a conclusive ending.
She tends to take an active approach to Murphy's Law, going out of her way to prevent it if she can. This is seen when she makes an agreement with Milo that he can use the music room in exchange for never walking past her office again and the fact that she's very much aware of the fact that Milo promised never to show up at another sports game.
Physical Appearance
Principal Milder has an olive skin tone, prominent lips, and a thin face with a pointed chin, a sharp nose, and brown, almond-shaped eyes. Her hair is shoulder-length and brown with short bangs. There are deep lines under her eyes.
She wears a light beige shirt with a collar that ends in a bow over her chest alongside a long, knee-length beige skirt that has a large checkered pattern. Her high heeled shoes match her shirt.
History
In "Rooting for the Enemy", she was surprised to find Milo at the game, having heard that he had promised Coach Mitchell that he wouldn't attend another game after previous mishaps. After Melissa and Milo explained that the coach had given his okay and announced his belief that their team would lose the game at the pep rally, Milder remarked "Did he now? I need to explain pep to that man."
In "Athledecamathalon", she sees Milo's parents dropping off his lunch and body armor. She takes them to deliver to Milo but was crushed by the weight of the body armor.
In "School Dance", Zack considers telling her that vampire hunters have infiltrated the school dance to hunt down Mr. Drako before hearing how crazy his idea is.
In "The Math Book", she gives Melissa the key to a classroom to retrieve her Math textbook, but not after warning them with one of her "I knew a kid" stories.
In "Disaster of My Dreams", she considers Elliot Decker for JCMS' safety inspector but fires him, but Elliot points out he didn't get hired yet, so she doesn't hire him since his bike and the boulder damaged her car.
In "Some Like it Yacht", she became the leader of the feral faculty. Her leadership was later challenged by Coach Mitchell.
In "Picture Day", she is seen watching the students have their pictures taken with Kyle Drako and even comments on his paleness.
In Cake 'Splosion, she is seen announcing the host of Cake 'Splosion, Basil Bravo, to the student body.
In "Ride Along Little Doggie", Principal Milder hosts the Winter Break Awards being held at the school. When Milo is unable to make it in time to get his award, she decides to stall by attempting to tell lame jokes.
Relationships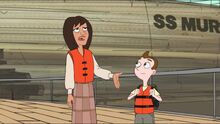 Milder is acutely aware of the disaster surrounding Milo. Often, she'll try to avoid Murphy's Law altogether, confronting him when he shows up at a football game after promising never to do so again, and telling him he could use the music room in exchange for 'never walking past her office again'. After disaster strikes the school yacht during a field trip, Milder refers to Milo as 'The Walking Disaster Magnet'.
Otherwise, she tends to be quite polite and friendly with him, treating him as she does any other student.
When looking for a new safety inspector, Principal Milder was forced to hire from within. Since Elliot works for the school as a volunteer crossing guard, she gave him a chance to prove himself before getting the job. Instead of keeping the school safe, he hid the disasters from her while spying on Milo. She was visibly frustrated to find that he'd left the school environment less than safe and promptly fired him without having given him the job in the first place.
Gallery
The image gallery for Elizabeth Milder may be viewed here.
Quotes
"Milo, ha, Good to see ya. I was under the impression you promised Coach Mitchell you would never show up at a game."
—Elizabeth Milder
"Mr. and Mrs. Murphy! Is this a legal, medical, or state emergency level problem?"
—Elizabeth Milder greeting Milo's parents
"I once knew a kid who borrowed one of my classroom keys and didn't return it. And do you know what happened to that kid?"
"No?"
"Okay, well, if you find out, tell them I would like my keys back!"
—Elizabeth Milder and Melissa Chase
"Someday, three children I know will be sitting around, saying "Old Principal Milder, she really taught us somethin'."
"You mean us?"
"Oh, no. Three other kids."
—Elizabeth Milder and Milo Murphy
"No!! I have to get her key back! I'm going to be the star of one of her "I knew a kid" stories!"
—Melissa Chase
"Principal Milder said we could use the music room in exchange for never walking past her office again."
—Milo Murphy
"Why can't I knock you over? I've got, like, twice your body weight!"
"I'm a middle school principal."
—Nolan Mitchell and Elizabeth Milder
Appearances
Season One
Season Two