Escape


Season:
2
Production code:
219a
Broadcast order:
71
Synopsis
Doof and Dakota attempt to use a bizarre Cavendish-platypus hybrid to lead them to Dakota's missing partner and friend.
Broadcast Information
U.S. Premiere:
May 11, 2019
International Premieres:
see below
"Escape"
is the thirty-fifth episode of the second season of
Milo Murphy's Law
.
Milo, Lydia, Coach Mitchell and Scott are stuck in the elevator of Googolplex Mall while Zack and Melissa are having lunch. Meanwhile, Doofenshmirtz and Dakota try finding Cavendish by creating a bizarre platypus hybrid clone from Cavendish's DNA.
Plot
At the Googolplex Mall, Zack and Melissa are waiting for Milo at the food court. Milo get in an elevator with Lydia, Scott, and Coach Mitchell when the elevator stops and most of them start to freak out.
At the Murphy Residence, Dakota is thinking about Cavendish and Doofenshmirtz brings their lunch. Dakota wants to know what Cavendish was thinking and Doof agrees to help him.
At the mall, Milo calls for help and tells the others they are in for a wait. Coach is upset due to missing belt testing day at his lasso class. He tries to get out via the emergency hatch and Scott, but fails.
Back at the house,Doof clones Cavendish. However the clone is Cavendish's head on a platypus body.
Back at the mall, Lydia is host an improve session with the others. Scott and Milo eagerly participate while Coach does not.
In the Murphy's backyard,
Transcript
For a full transcript of "Escape", click here.
Songs
Gallery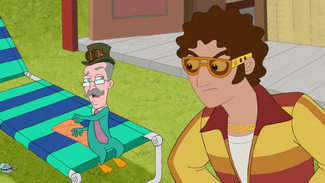 The image gallery for Escape may be viewed here.
Videos
TBA
Trivia
Third episode with a one-word title, after "Athledecamathalon" and "Freefall".

There appears to have been a animation change during the making of this episode. In this teaser image, the screens behind them are displaying alien gibberish. But, in the actual episode the screens are covered in pictures from past episodes.
This episode shows that Scott has "had" children with Mildred.
Despite Doof claiming it would take "all afternoon" to clone a human body, it has been seen in the episode Run Away Runway that Doof can clone himself much quicker than that. As such, it is likely that Doof simply thought it would be funny to see Cavendish's head on Perry's body.
Allusions
Phineas and Ferb - A large portion of the episode takes place at the infamous Googolplex Mall.
Pokémon - During the cloning sequence, two of the shapes that appear in the cloninator resemble the Pokémon Haxarus and Chesnaut.
Characters
International Airings
TBA