Major Francis Monogram is a is Agent P's commanding officer, and gives him his mission each day. He first appeared in "The Phineas and Ferb Effect".
He is voiced by Jeff "Swampy" Marsh.
Personality
He is a serious yet outgoing man who is always on guard. He also doesn't seem to trust Doofenshmirtz due to his retirement from evil.
Physical Appearance
Monogram has pale skin and very short, white hair alongside a bushy white mustache and a grey unibrow. He wears an olive green uniform with a grey collar. The initials 'MM' appear in purple on the right side of his top.
History
Major Monogram works as Perry the Platypus's commanding officer in the Organization Without a Cool Acronym, and gives him his mission each day.
Recent Events
In "The Phineas and Ferb Effect", Monogram briefly appeared in a screen contacting Perry's former nemesis Heinz Doofenshmirtz, along with Milo Murphy, Vinnie Dakota, Balthazar Cavendish, and Orton Mahlson about the Pistachions' attack, only for an annoyed Doof to remind Monogram that they already knew before switching to another channel.
In "Agee Ientee Diogee", in the past, Monogram accidentally sent Diogee on a mission to foil Doofenshmirtz, thinking he was the temporary agent they were expecting.
Relationships
Monogram treats Carl with very little respect, going so far to call him ugly. When he says something that's not true, Carl corrects him, though Monogram keeps acting like his statement is true and plays along with it so he doesn't look stupid.
Gallery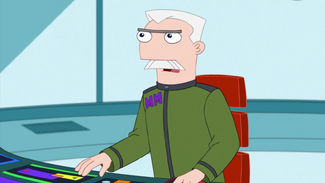 The image gallery for Francis Monogram may be viewed here.
Appearances
Season Two
Trivia
External links