"
Well, apparently, that is a message from 50 years ago that we have not, as of yet, made.
"

— Balthazar Cavendish
"
Professor Time? My name is Milo Murphy, and we need your help.
"

— Milo Murphy
"Fungus Among Us" is the 34th episode of the first season of Milo Murphy's Law. It aired on September 30, 2017.[1]
Milo, Cavendish, and Dakota travel back to 1965 to find an intern while inspiring the creation of Dr. Zone, but they discover that a lone Pistachion has taken over the show in the process, causing the present to change into a dystopian world taken over by Pistachions in human disguises. Milo, Cavendish, Dakota and Orton Mahlson get stuck in this bad present and try to locate Professor Time to invent time travel early.
"Fungus Among Us" is the intended finale for Season 1 and directly leads into the events of the Season 2 premiere, "The Phineas and Ferb Effect".
Plot
Part 1
As Milo, Zack, and Melissa plummet from a hot air balloon basket they land in Cavendish and Dakota's time vehicle. Soon after, Milo gets a cell message from Dakota from 1965. He goes with the time travelers to the studio where The Doctor Zone Files is filmed for answers. Back in the present, various citizens of Danville start to act weird and hunt down Zack and Melissa until they are captured, which is witnessed by Diogee.
Back in 1965, they are filming the pilot episode of Doctor Zone — with Milo reciting what we heard himself say in the present — when an intern is revealed to be Derek, the last kin of King Pistachion, in the midst of his own world-domination scheme. Milo, the time travelers, and Orton Mahlson jump into the time stream, but they are low on time juice and are at risk of being trapped in the time stream forever if they run out.
Part 2
After they arrive in Danville two weeks after they went to 1965, they talk about Derek's plan and realize it has been in the works since 1965. After escaping the Pistachions, they see Sara being taken away in a van to Lard World. They watch as she is replaced by a Pistachion and locked up with the other residents of Danville. Milo tries to free his friends and family but they quickly tell him to flee. After that, Milo, Cavendish, Dakota, and Orton are chased around the theme park. Diogee helps them escape, and they all sail down the sewers in a conveniently placed boat. Milo asks Lardee Boy for help, but it turns out that Lardee Boy has been replaced by a huge Pistachion.
After escaping the Pistachion, they decide to seek out Professor Time, the man who invented time-travel, and ask him to help them travel back to 1965 to prevent all this from happening. When they reach the address on Cavendish's directional pointer, they find Heinz Doofenshmirtz angry to see them and not a pizza delivery guy in his trap.
TO BE CONTINUED comes on the screen.
Transcript
For a full transcript of "Fungus Among Us", click here.
Milo: See you guys later! (Diogee barks.) No. Stay home, Diogee.
Milo: Diogee, go ho— (Diogee whines and starts sadly to go home) Wait, wait, wait. Diogee, (Diogee stops) do not go home. (Diogee's ears perk up) It's not safe. Stay with us. (Diogee bounds happily into Milo's arms and licks him) Okay, okay! Down, boy! Come on!
Songs
Gallery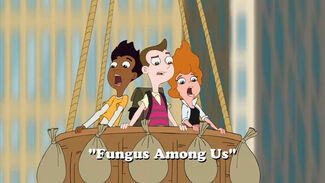 The image gallery for Fungus Among Us may be viewed here.
Notes
International Airings
March 10, 2018 (Hungary)[2]
April 21, 2018 (Japan)
February 10, 2019 (Southeast Asia)
March 15, 2019 (Ukraine)
Trivia
The episode title refers to the saying "at ease disease, there's a fungus among us", which meaning goes along the lines of "when things go wrong, it's because of a traitor between us". This describes the premise of the episode of Derek disguising himself as a human to plan the second Pistachion takeover.

This makes "Fungus Among Us" one of the few instances the saying is used exclusively because of its meaning, since there tends to be confusion about what it exactly means. Most media that reference this saying instead attribute it to fungi and mushrooms (which "Fungus Among Us" don't feature whatsoever).

This is the second special of Milo Murphy's Law. ("Missing Milo")
Vinnie Dakota reclaims one of "his" clocks. ("Missing Milo")
This episode is the first to physically include any Phineas and Ferb characters.
Currently, the only characters who are known not to be imprisoned and replaced by Pistachions are Milo, Cavendish, Dakota, Diogee, 1965 Orton Mahlson, and Heinz Doofenshmirtz.
This is also the first time Melissa loses a bet to someone.
Zack mentions having at least two little brothers.
Milo remembers that Dakota calls Pistachions "nutjobbers". ("Missing Milo")
Despite "A Christmas Peril" being the last season 1 episode to air, this is considered the first-season finale. The continuation of this episode's story arc will take place in "The Phineas and Ferb Effect", which is the first second-season episode. "Fungus Among Us" has production code 121, which means that season 1 had twenty-one half-hours; hence, it was considered to be the finale.[3]

A similar thing happened with the Phineas and Ferb episode "O.W.C.A. Files", where it was the last episode to air in the series, while "Last Day of Summer" was the series finale.

This is the second episode with a cold open. ("Going the Extra Milo")
This episode reveals that the address for Doofenshmirtz Evil Incorporated is 9297 Polly Parkway.

When Milo responds to Tobias Trollhammer passing out, his outlines are much lighter.
Continuity
In the scene at Balsawood Studios, after criticizing Orton Mahlson for not being weird enough, the producer says to another worker, "Baxter, give me something weird." Baxter then replies, "Uh... A grill made out of an old toilet, boss?" In "The Undergrounders", we see Dave, the leader of the Undergrounders grilling a patty on a grill made from an old toilet.
Allusions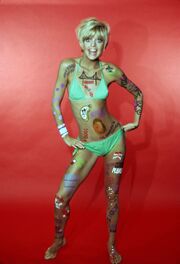 Errors
The Time Ape image on Sara's shirt is absent during several shots of the episode, but reappears in her final appearance in the episode.

This is explained in the following episode. Derek tried to use the Doctor Zone franchise to help finance his takeover, but he drove the franchise into ruin after two episodes and the show faded in obscurity in the second takeover's timeline.

While he's dancing, the violet "FREE LUNCH BABY" on Vinnie's left thigh disappears and reappears several times.
Despite the claim that time-travel had not been invented during the present events of the series, Dan Povenmire and Jeff "Swampy" Marsh's previous series, Phineas and Ferb, showed the existence of a time machine in their episode "It's About Time", and the events of Phineas and Ferb have been confirmed to take place before Milo Murphy's Law.

However, Phineas and Ferb's time travel adventures might not have been known to the general public in the mid-late twenty-second century. Leaving the masses in the dark about time travel in the twenty-first century.

Greg Cipes and Phil LaMarr are credited for voicing Mort and Marcus Underwood, despite the two not appearing in the episode.
When Milo starts talking to the figure walking towards the door, his arm and the rest of the net gets cropped.
At the end of the credits, Heinz Doofenshmirtz's hair is colored as his skin color.
Cast and Characters
References