Giant Alien
Species:
Alien
The giant alien is a huge alien creature that had been unleashed from a cage in the Octalian Ship in the episode "Cavendish Unleashed".
It is voiced by Brock Powell.
Personality
While the giant alien's behavior appears to be similar to that of an animal, it shows itself to be relatively intelligent when it uses a barrel to stop its cage from closing so that it can escape.
The alien showcases some vicious tendencies, grabbing Cavendish the moment it's close enough and snarling in his face. It has a strong sense of smell and uses it to sniff Cavendish's belongings and to later smell out some food. The alien is easily distracted by food and tends to focus on it above all else. Because of this, it was easily lured back to the ship by a trail of hotdogs.
Physical Appearance
The giant alien is a huge, red alien creature with a ring of thick, scruffy, lighter-orange fur around its neck. It has a large mouth with a bright blue tongue and a single dark-blue eye with a light-yellow sclera in the center of its face. The alien creature is quadrupedal, with two long legs in the front, and two in the back. Each of its feet has three sharp, light orange claws. The alien has a long tail with three orange spikes on either side.
History
In "Cavendish Unleashed", the alien is trapped in a giant cage on the Octalian ship, only to be unintentionally released when Cavendish pushes a number of random buttons on the control panel. The alien promptly grabs Cavendish and snarls in his face, escaping the ship. After getting lassoed by Cavendish, it drags him across the forest before Milo, Melissa, and Zack rescue him and help lure it back into the ship using hotdogs.
Gallery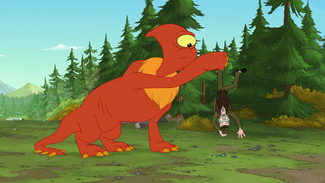 The image gallery for Giant Alien may be viewed here.
Quotes
"Perhaps I should scream now. Yes. NGHAAAA!!!"
—Cavendish, upon being grabbed by the alien
"An alien monster?!"
—Melissa Chase
"Mr... Giant cyclops thing? W-we're gonna go now... please don't kill us."
—Zack Underwood
"Don't move! There's no telling what it might do..."
—Balthazar Cavendish
Appearances
Trivia
References
Community content is available under
CC-BY-SA
unless otherwise noted.