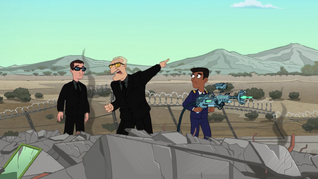 The Government Agents are a mysterious and strange group, likely working for the government, that are assigned equally mysterious, strange, and seemingly random missions.
Physical Appearance
They all usually wear black suits, dark pants, and dark sunglasses.
Notable Members
Notable Objects
They seem to have a high budget, as they use a variety of gadgets for all the missions they do. They use a drone and many other types of surveillance equipment linked to an impressive multiscreen setup while having a disintegration/reintegration ray on stand by in "The Note". In "Family Vacation", they have a helicopter that has an extendable claw.
Appearances
Season One
Season Two
Trivia
They appear in the theme song.
They seem to have named an area (possibly Danville) "The Murphy Sector".
As of now, it is unknown what actual goals, affiliations, or importance this group holds.