"
Zack: Yeah, grandparents are the best. Hey, are yours full of great stories and wise advice?
Sara: They might be. There's no way of telling.
"

— Zack Underwood and Sara Murphy
Grandma Murphy is the mother of Martin and Joey, the wife of Grandpa Murphy and the grandmother of Milo, Sara, and Nate. She and her husband have a habit of talking over each other.
She is voiced by Shelley Long.
Personality
Grandma Murphy seems to be a kind and loving person with the usual Murphy spirit, keeping a positive, happy attitude even when things get rough. Her family generally has trouble deciphering her words, as she has the tendency to speak alongside her husband, although she doesn't seem to notice.
When Grandpa Murphy isn't nearby, she's surprised by what her own voice sounds like without him talking over it, and states that she doesn't like it.
She proved herself to be very agile and good with a weapon after fixing the problems Doofenshmirtz had caused at the museum, and has stated that her skills came from working at an arcade.
Physical Appearance
Grandma Murphy is an elderly woman with light skin, a small, round nose, and brown eyes. She has short-cut grey hair that curves upward in the back. Her glasses have black frames, and she wears a pair of round turquoise earrings.
She wears a bright yellow short-sleeved shirt with a teal collar. There is a small V-shape at the front of the collar, and an identical teal color at the end of the sleeves. She wears bright turquoise pants with visible seams on the sides and a pair of brown slip-on shoes.
History
In "A Christmas Peril", Milo picks his grandparents up at the train station, where they're promptly trapped on the train with him and Nate. Eventually, Murphy's law causes the train to fall on its side, and the group continues on to pick up the rest of the Murphys. They end up reuniting with the other Murphys at the mall, where they enjoy a Christmas Eve dinner together.
In "Now I Am a Murphy", she relaxes with Sara and Brigette after the male Murphys leave on a trip. The three of them enjoy the peace, and decide to go to the museum together. Unfortunately, Doofenshmirtz invites himself, and Grandma Murphy finds herself undoing the damage that he caused.
Gallery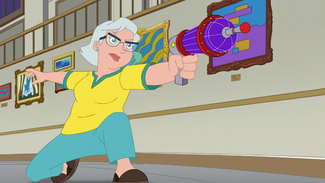 The image gallery for Grandma Murphy may be viewed here.
Quotes
"Who else gets to spend Christmas [chasing an iceberg water], running on tarmac, crossing train rooftops?"
—Grandma Murphy
"This old Murphy ritual is a bunch of malarky!"
—Grandma Murphy
"Will you two quit trying to scare Milo?"
—Grandma Murphy
"Is this what my voice sounds like without grandpa talking over it? Oh I don't like it."
—Grandma Murphy
"Yeah. I used to work in an arcade."
—Grandma Murphy
Appearances
Season One
Season Two
Trivia
It is possible her maiden name is Danger (pronounced dɑ̃.ʒe dahn-ziay, like the French word).