"
Zack: Yeah, grandparents are the best. Hey, are yours full of great stories and wise advice?
Sara: They might be. There's no way of telling.
"

— Zack Underwood and Sara Murphy
Grandpa Murphy is the father of Martin and Joey Murphy, the husband of Grandma Murphy, the grandfather of Nate, Milo, and Sara, and father-in-law of Brigette.
He is voiced by the late Fred Willard.
Personality
He and his wife have a habit of talking over each other, but it can be discerned that he is kind towards his family. He is proud to have EHML and tried to express this attitude to Nate after he'd claimed he didn't have it.
Physical Appearance
Grandpa Murphy is an elderly man with dark grey hair, brown eyes, and a mustache. In "A Christmas Peril", he wore a brown jacket with multiple pockets, a blue scarf, and a fluffy brown cap alongside a pair of large glasses.
History
In "A Christmas Peril", Milo picks his grandparents up at the train station, where they're promptly trapped on the train with him and Nate. Eventually, Murphy's law causes the train to fall on its side, and the group continues on to pick up the rest of the Murphys. They end up reuniting with the other Murphys at the mall, where they enjoy a Christmas Eve dinner together.
In "Now I Am a Murphy", he arrives to help Martin put Milo through the trials of becoming a Murphy man. To do so, the three of them go on a trip together.
Gallery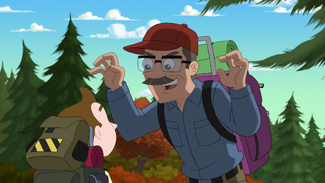 The image gallery for Grandpa Murphy may be viewed here.
Quotes
"Hey, it's the S.S. Murphy! We found it! Grandpa will be so happy!"
—Milo Murphy
"You should be proud to be a Murphy, son. Do you know anyone else who gets to spend the holidays climbing across the roof of moving trains or sinking in iceberg-infested waters?"
—Grandpa Murphy
"We'll just have to take our chances."
—Grandpa Murphy
"I remember it like it was yesterday, taking your dad on this very same trip! 'Course, he got carsick on the way! Might've been from some bad oysters."
—Grandpa Murphy
"Seems like only yesterday I was taking you on your init- wow, is this what my voice sounds like without grandma talking over me? I don't like it... "
—Grandpa Murphy
"Y'know, Jebadiah Murphy never questioned his elders."
—Grandpa Murphy
"Back in my day, kids didn't scare their elders."
—Grandpa Murphy
Appearances
Season One
Season Two
Community content is available under
CC-BY-SA
unless otherwise noted.