Jurassic World: Dominion Dominates Fandom Wikis - The Loop
Play Sound
The Hospital is a location in Danville that provides treatment to sick and injured patients. The Murphy's have a special suite to themselves within the hospital.
Notable areas
The Murphy Suite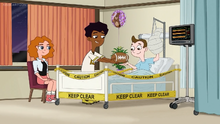 The Murphy suite is an entire area in the hospital reserved and dedicated to the Murphy family over the frequency they tend to get injured because of Murphy's Law. There is a plaque on the wall at the door that reads 'The Murphy Suite' beside a window to the room. Inside, there are at least two hospital beds, a sink, and a window alongside a number of decorations.
Notable Employees
History
In "Rooting for the Enemy", Milo breaks his thumb when he falls into a large pit with a crowd of students who'd been celebrating his victory. He was promptly taken to the 'Murphy Suite' of the hospital, where he was treated and given a cast. A number of students came to wish him well, with Zack giving him the game ball.
In "Worked Day", the hospital was one of three locations visited on the class field trip. The students were greeted by Dr. Underwood and taken to see the 'state of the art' MRI machine, coincidentally as Mr. Drako was getting a scan. Unfortunately, Murphy's Law caused the lever to become stuck at maximum power, turning the machine into a giant magnet. The hospital was then hit by a massive ship, a pistachio delivery truck, and a variety of other metal objects.
In "Missing Milo", the hospital appears briefly the background of one of Melissa's pictures of Milo.
In "Milo Murphy's Halloween Scream-A-Torium!", Zack recalls his father constantly scaring him for fun, going as far back as his mother getting an ultrasound before he was born, shown in a room of the hospital.
Gallery
Appearances
Season One
Season Two