"
Hi, I'm Jackie. I pull that with all our guests. Did I get your hearts racing?
"

— Jackie, "The Wilder West"

Jackie is a thrill-seeking descendant of Calamity Jane. She appears in "The Wilder West".
She is voiced by Ariel Winter.
Personality
Jackie is constantly chasing danger as often as she possibly can, living each moment in search of her next thrill with little regard for the harm it might cause her or the people around her. When something does go horribly wrong, she brushes it off in a matter of seconds and prepares for her next challenge. Otherwise, she's a very cheerful and friendly person who is excited to give visitors her own version of the ranch tour.
Physical Appearance
Jackie has fair skin with prominent freckles, a small, pointed nose, and large turquoise eyes with visible eyelashes and pupils. Her bright blond hair is thick and curly, with a tuft of equally curly bangs sticking out from the front of her hat.
She wears a large brown cowboy hat with a black band alongside a green scarf that is tied around her neck. Her outfit is very fitting of the ranch, with a light red shirt that's cuffed at the elbows, an open brown vest, and brown chaps over her jeans.
History
In "The Wilder West", she took Milo, Melissa, and Zack on her own version of the ranch tour, leading them through various dangers around the ranch. Her thrill seeking lasted even after Milo saved her life, and ended only after the group parted ways.
Relationships
Zack developed an infatuation that lasted only until the end of their adventure on the ranch, although she treated him much the same as she did Milo and Melissa, and didn't seem to notice his infatuation. She referred to him as 'Boy Band', implying that she might know about his past with The Lumberzacks.
Milo was worried about spending time around her due to their clashing family lines, but she was completely unperturbed, claiming she made a point of 'not knowing any laws', including Murphy's law. Soon after, however, she seemed to take great thrill in the danger he attracts, and she began to refer to him as 'Danger Zone'.
Gallery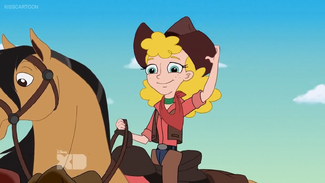 The image gallery for Jackie may be viewed here.
Quotes
"That's how I like it. After all, I am the great great great great great granddaughter of Calamity Jane."
—Jackie
"Oh, don't worry about the signs. They just say possible. How often does the worst thing that could happen actually happen?"
—Jackie
"Well you know what they say, tempting fate is like a rainbow, it's too beautiful not to want to slide down like a Leprecon."
—Jackie
"I guess, I just wasn't seeing Jackie as she really is."
—Zack Underwood
"Well, to be fair, when she was first charging at us with a bandit mask on, she seemed uh... less insane?"
"Nah, she was always crazy."
—Milo Murphy and Melissa Chase
Appearances
Trivia
She was kicked out of homeschooling.