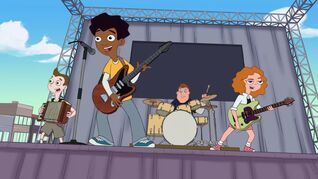 Just Getting Started is a band comprised of Zack Underwood, Melissa Chase, Milo Murphy, and Mort Schaeffer. They performed together for the first time in "School Dance" to replace the missing band. Their first official performance occurs in "Battle of the Bands". Later, Amanda Lopez becomes the band's new manager in "Managing Murphy's Law".
Members
Songs
History
Main article: Just Getting Started Arc
In "Secrets and Pies", they first had the idea of forming a band when Milo and Melissa discovered Zack used to sing in a boy band. Melissa said she can play the bass and Milo the accordion, which Zack commented saying that it was "potentially cool in a hipster kinda way".
In "School Dance", they performed for the first time at the Niagara Falls Fling with Just Roll With It after the hired band disappears and Milo fixed the decorations although they didn't decide their name yet.
In "Battle of the Bands", their name came as a misunderstanding while they were getting registered for the Battle of the Bands. They officially perform with a new song titled A Bumpy Ride Tonight.
In "Disaster of My Dreams", they practice in the band room of Jefferson County Middle School twice. The second session was while Elliot is chasing the huge and perfectly spherical boulder.
In "Managing Murphy's Law", Amanda joins in as a band manager and arranges other members to perform in a benefit concert called Forget the Llamas, Save the Alpacas. Together, the band performs the song Just Getting Started.
In "Milo's Shadow", Just Roll With It is heard while Doof is trying to prevent a baseball from hitting things in Milo's school. Unlike Elliot in "Disaster of My Dreams" though, he fails. This episode also adds female vocals to the song.
Gallery
Quotes
"But you were in a band!"
"It's really cool, Zack."
"Hey, We should start a band!"
"I can play the bass."
"That's cool!"
"And I've got an accordion!"
"Potentially cool, in a hipster kind of way."
—Milo, Melissa, and Zack
"And you are…?"
"Milo, Melissa, Zack, and Mort."
"I mean the name of your band."
"Do we need a band name?"
"We're just getting started."
"Well, welcome to Battle of the Bands, Just Getting Started."
"That's not what I meant."
—Shelley, Milo, Melissa, and Zack
"Let's hear it for Just Getting Started!"
—Shelley
"Principal Milder said we could use the music room in exchange for never walking past her office again!"
—Milo Murphy
"You have a gig today."
"We do?"
"I should know! I'm your new manager."
"You are? Since when?"
"Since five seconds ago. Were you not listening?"
—Amanda, Melissa and Zack
Appearances
Trivia
Milo playing the accordion is a nod to his voice actor, Al Yankovic, who is well known for playing the accordion himself.