Just Messing Around is the song that plays during the montage of Balthazar Cavendish and Vinnie Dakota's ditch day in "Perchance to Sleepwalk".
Lyrics
Don't look at me for an itinerary
I've got no agenda, no plans
Let's just keep it all arbitrary
I'm putting it all in your hands
Hey, we could do whatever you want
A park or a museum or that restaurant
You know the one that has the spinach and the cheese croissant
Or we could just chill and be all nonchalant
Check my schedule, I've got nothing pressing
Nothing on my to-do list that needs addressing
Seems the way that the day's progressing
That we've got nothing to do but messing around
Messing around
Messing around
Just messing around
Just messing around
Gallery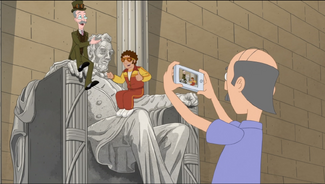 The image gallery for Just Messing Around may be viewed here.
Trivia
A number of scenes revisit various activities that have been seen elsewhere in the series.

They ride on Greased Thunder, which has been fixed after the events of "Murphy's Lard".
They ride the red tandem bike they had in "The Little Engine That Couldn't".
They ride the go carts at the Play Park where Milo had his Birthday in "Party of Peril".
They bungee jump off the bridge where some students were bungee jumping while Zack was inviting them to Milo's party.
Community content is available under
CC-BY-SA
unless otherwise noted.