Jurassic World: Dominion Dominates Fandom Wikis - The Loop
Play Sound
"
I claim this land for Pistachions! We will now rebuild it in our image! You know, except for South Beach; that place is perfect the way it is.
"

— King Pistachion, Missing Milo
King Pistachion was the very first Pistachion after the Sentient Blob went into the Pistachio tree and acted as their leader as they fought for world domination. He appeared as the main antagonist of the Pistachions Arc, serving as the main antgonist of ''Missing Milo'' and as the posthomous overarching antagonist of both ''Fungus Among Us'' and ''The Phineas and Ferb Effect''.
He is voiced by Rhys Darby
Personality
King Pistachion succeeded in world domination and appears to have taken an easy victory over the humans, showing no remorse for their freedom, lives, nor their culture. In spite of this, he is shown to be reasonably polite and has a strong love for the other Pistachions, who tend to refer to him as their father.
Physical Appearance
King Pistachion, like the other Pistachions, resembles a huge, humanoid pistachio plant. Unlike the others, however, his chest sports a glowing yellow leaf and his head has foliage covered branches on top. He's considerably bigger and more slender than the others, with much broader shoulders. 
History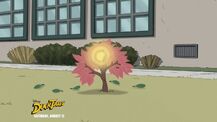 He originally gains sentience in "The Substitute", where events lead to a chunk of the sentient blob landing on a broken pistachio plant after a failed mission by Cavendish and Dakota. The plant revives and eventually grows into king Pistachion, who goes on to take over the world.  
In "Missing Milo" he celebrates his victory over the humans in 2175. It's short-lived, however, as Milo, Cavendish, and Dakota succeed in saving the world, leading him and a group of his Pistachions back to Milo's time and into a battle. He is eventually destroyed by Diogee, who pees on the original plant, thus removing him from the timeline and healing all the damage he'd caused. 
In "The Phineas and Ferb Effect", Derek mentions his father while talking about his past. King Pistachion had taught him that, should he ever be separated from the others, he should 'find an adult, impersonate them, and take over the world'. 
Relationships
He loves the rest of Pistachions and considers most, if not all of them, his children. He seems to know each of them by name and keeps pictures of memorable events on his phone.
King Pistachion considers Milo his arch enemy and goes through great lengths to chase him through time and put a stop to his plans for saving the world. Eventually, he full out threatens Milo by putting the lives of his closest friends at stake, and when the battle is over, speaks to him directly, claiming that Milo hadn't seen the last of him.
Gallery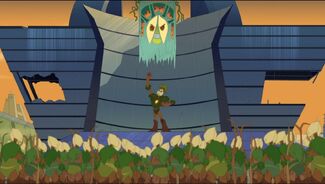 The image gallery for King Pistachion may be viewed here.
Quotes
"Wait one moment! We were assigned to protect this very same plant once before!"
"Yeah, and if memory serves, we failed, right?"
"But somehow it survived."
—Balthazar Cavendish and Vinnie Dakota, discussing the plant that will become King Pistachion
"I claim this land for Pistachions! We will now rebuild it in our image! You know, except for South Beach; that place is perfect the way it is."
—King Pistachion
"I'm so proud of all of you! Here, Brandy, I want to get a family photo."
—King Pistachion
"Pile in, boys. Time to take this show on the road."
—King Pistachion
"It all started with a small pistachio plant in a middle school courtyard. As the plant grew, it gained intelligence and sentience and eventually uprooted itself and became King Pistachion! The King Pistachion ultimately took over the Capitol building and Time Travel Bureau. They immediately rounded up all the clocks."
—Holographic Head
"Hahahahaha, you —"
"You wish it was Milo!"
"Jerry, we talked about this! I was gonna do the zinger!"
"Sorry, Dad."
"Okay. You wish — Yup, see? Moment's gone. You ruined it."
—King Pistachion and Jerry
"I am King Pistachion, and we're here to destroy you and your time-traveling friends. Well, not me per se. These guys will destroy you. Say hello, boys. "
—King Pistachion
"Don't let their congenial manner fool you; they're a lot tougher than they look. This one ate a congressman. And this one destroyed a city before he could walk. Here, I have pictures, look! Destruction, destruction, destruction, general mayhem, he— Aw, look! That's from Jerry's surprise party! Remember that, Jerry? We all got those..."
—King Pistachion
"Now no one can go back to stop us!"
—King Pistachion
"You haven't seen the last of me, Milo Murphy! Ah! You haven't seen the last of — oh!"
—King Pistachion's final words
Appearances
Season 1
Season 2