Jurassic World: Dominion Dominates Fandom Wikis - The Loop
Play Sound
"
He may be a vampire - which I still maintain he's not. But he's our vampire! Which I still maintain he's not.
"

— Melissa to Zack and Chad about saving Mr. Drako, "School Dance"
Kyle Drako, regularly addressed as Mr. Drako, is a teacher at Jefferson County Middle School. He tends to look and act like a vampire.
He is voiced by Michael Culross.[1]
Personality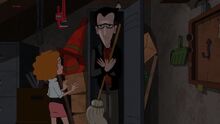 Kyle Drako has many eccentric habits that lead his students, most notably Chad, to believe that he's a vampire. Some of these habits include wearing heavy clothing and an umbrella hat under the sun, resting in small, box-like spaces, and keeping his arms crossed while lying down. Likewise, Kyle enjoys wearing a long black cloak and using large amounts of sunscreen when outdoors. Even the statements he makes do little to dispel the theory, as seen when he claims that his house is 'like a small dark box that he sleeps in'.
He is very friendly to his students and does his best to be helpful to them. Unfortunately, he often misses his mark, as seen when he gives them important information about a competition last minute when he should have given it to them months ago. This left his students panicking over their lack of preparation, while he believes he'd done them a favor and kept them from months of panic.
When insulted by Milo, who listed Kyle's haircut as one of five famous disasters, the teacher accepts the answer with amusement.
He was the only member of the school staff to stay calm after the Yacht crashed on a field trip. He did his best to help the students, while the other teachers had run off into the wild the moment it happened. He claims that the exact same thing had happened at a teacher's conference in Seattle.
Kyle volunteers at a donation center on weekends and claims he finds neat clothes there.
Physical Appearance
Kyle Drako is a tall, slender man with a long face and pointed chin. There are dark bags under his eyes and he has a unibrow. He has short black hair with greying streaks on the sides.
He wears an open black jacket over an orange henley shirt with a pair of light grey pants and brown loafers with grey soles. Occasionally, he can be seen wearing a long black cloak with a large, upturned red collar. When outside, Kyle wears a closed black trench coat that reaches past his knees alongside a dull green 'umbrella hat'. He is also rarely parted from his hoverboard, which he uses to glide about the school.
History
In "Worked Day", he received a CT scan; when told by the nurse to keep his arms at his sides rather than folded over his chest, he found it "unnatural." When the machine began to malfunction, he initially blames it on his failure to keep his arms at his sides and is then horrifyingly launched from the machine, down the hallway, out of a window several stories high and into the street, after which he is seen rolling down the sidewalk.
In "Athledecamathalon", Chad accused him of being a vampire, and he revealed that he had covered pictures of his ex-wife all around his classroom. He then informed the students that due to the school board's purchase of the S.S. Indulgence, they will be combining the academic and athletic decathlons, something he could have informed them of three months ago. He also oversaw the event on his hoverboard wearing sunscreen and an umbrella hat, and then had his car wrecked by one of the events; after another event, Milo took part in wrecks the field, he advised the students to continue. He also introduced a final event using expensive technology; when Melissa asked him how he afforded it but not two separate decathlons, he called it "a funny story... for another time."
In "We're Going to the Zoo", Mr. Drako volunteered at a donation center that accepts old clothing, which is where he obtained a cape. He also informed Milo, Zack, and Sara that Milo's mother's vintage T-shirts, which they accidentally donated, were being sent to the mulching center.
In "School Dance", Chad feared that Cavendish and Dakota, who had come to a school dance with wooden stakes, were vampire hunters out to get Mr. Drako. However, the pair encountered Mr. Drako and parted ways without issue; Mr. Drako also wore his cape, though he referred to it as a "poncho" and claimed that his house "gets so little natural light, it's like a dark box that I sleep in".
In "The Math Book", Milo, Melissa, and Zack found him in a locker in the school janitor's room that he claimed to have gotten locked in while looking for a mop; after they left, he closed the locker door with himself still inside.
In "Missing Milo", when Milo went missing, Mr. Drako told Melissa that he had not seen him.
In "Some Like it Yacht", on a school field trip, Mr. Drako helped the students fix the S.S. Indulgence after the rest of the faculty went feral.
In "Backward to School Night", he greeted students and their parents when they arrived at school on Back to School Night and glided by on his hoverboard when they were about to leave.
In "Fungus Among Us", the course of Derek's overthrow of humanity, Mr. Drako had been replaced by a Pistachion. The Pistachion disguised as Mr. Drako is the one who finally captures Zack and Melissa, who believe him to be the real Mr. Drako.
In "Milo Murphy's Halloween Scream-A-Torium!", he was seen in Milo's haunted house reading a newspaper in a coffin. He is slightly insulted when he learned Sara did not like his shop class.
In "Picture Day", it was suggested by Chad that he may have bit Milo after Milo joked that he doesn't show up on film.
In "The Speech and Debate League of Death and Destruction Cross Town Explosion Event", he as well as Ms. Murawski and Coach Nolan host the titular event, with the latter referring to him as a vampire. Though originally unimpressed, he gets quite into it by the end.
Gallery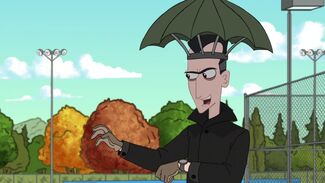 The image gallery for Kyle Drako may be viewed here.
Quotes
"Are you sure? This feels so... unnatural."
—Kyle Drako (On not crossing his arms)
"Mr. Drako is a... Vampir."
—Chad
"Hello, children."
—Kyle Drako (Common saying)
"Oh those aren't mirrors. They're pictures of my ex-wife. Stop looking at me Agnes!"
—Kyle Drako
"You can't be too careful about the sun."
—Kyle Drako
"Ooooo, Meow. But I'll accept the answer."
—Kyle Drako, in response to Milo's remark on his haircut
"I volunteer on weekends. You can find the coolest stuff. Look, a black cape, like I'm a super hero that's evil!"
—Kyle Drako
"If he's really a vampire, those wooden stakes will kill him!"
"But if he's not a vampire, those wooden stakes will kill him!"
—Zack Underwood and Melissa Chase, when Chad is concerned that Cavendish and Dakota might kill Mr. Drako with their wooden stakes
"Welcome, Parents and children of the night...the back to school night. I love the way my coat smells."
—Kyle Drako
Appearances
Season One
Season Two
Trivia
His last name is a shortened version of the name of the legendary lord of vampires, Count Dracula, from the eponymous story by Bram Stoker.
"Drako" is the Ancient Greek form of the Latin word "draco" which means "dragon". This is another similarity to Dracula, as in Romanian (where Transylvania is located and where Vlad Dracul, the inspiration for Count Dracula, hails from), Dracul means "dragon", hence Dracula means "son of dragon".
He owns a hoverboard.
He speaks with an Eastern European accent.
References