Jurassic World: Dominion Dominates Fandom Wikis - The Loop
Play Sound
"
You know, no matter how many times I come to Lard World, I'm always surprised how much fun you can have with rendered pig fat!
"

— Milo Murphy, "Murphy's Lard"

Lard World is a theme park based, as its name suggests, on lard; its mascot is Lardee Boy.
Description
It has its own theme song, which explains some of the attractions. It contains the Greased Thunder rollercoaster (which has been said to resemble Phineas and Ferb's style), which it used to sustain before Milo and Melissa rode it and the consequences of Murphy's Law destroyed it. It also has a Lard Submarine which goes inside a lard lake where people can be amused by a large variety of meat stuck in the lard, and a cooking pan with fake eggs on it, where people sit. The cooking pan moves the eggs and launches them in the air like the cooker cooking eggs cliché. There is a petting zoo, where people can pet animals made of lard.
History
In "Family Vacation", it was spotted by Milo Murphy and the Brulee twin sisters on their way to meet the rest of the Murphy family.
In "Murphy's Lard", Milo, Zack, and Melissa visited the park, as did Cavendish and Dakota trying to protect a pistachio stand.
In "Perchance to Sleepwalk", Cavendish and Dakota return as customers as part of their ditch day and rode Greased Thunder.
In "Love Toboggan", Milo, Melissa, Zack, Sara, and Neal involuntarily rode a boiler propelled toboggan through the park.
In "Fungus Among Us" and "The Phineas and Ferb Effect", Derek and his army imprisoned all the captured humans in Lard World. There was a Giant Pistachion masquerading as Lardee Boy in the sewers, and the amusement park was full of vines.
Attractions
Image
Attraction
Type
Greased Thunder
Rollercoaster
Donut Mountain
Water Ride
(Water replaced with lard)
Lard Museum
Museum
Lardcano Lagoon Submarine Voyage
Submarine Adventure Ride
When Pigs Fly!
Spinning Ride
Petting Zoo
Lard Animal Petting Zoo
Frying Pan Ride
Generic Ride
Gallery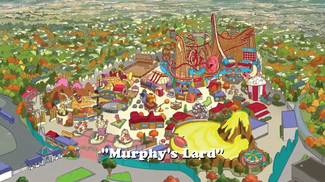 The image gallery for Lard World may be viewed here.
Quotes
"-and there's Lard World with Lardee Boy out front, sharing his signature brand of enthusiasm!"
—Milo Murphy
"You know, no matter how many times I come to Lard World, I'm always surprised how much fun you can have with rendered pig fat!"
—Milo Murphy
"Oh no, Look what they did to Lard World! Okay, now this is personal."
—Milo Murphy
Appearances
Season 1
Season 2