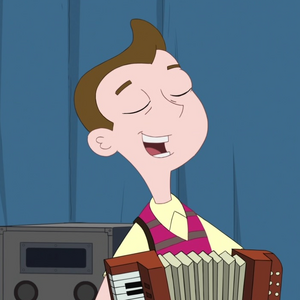 Just like Phineas and Ferb, Milo Murphy's Law has a library of songs throughout the show's run. Here is a list of those songs, organized by date of first airing.
This page also includes a list of songlets and jingles that also appear throughout the running of Milo Murphy's Law.
List of songs
This list contains full songs that appear in the show.
Note: Songs from a previous season can appear in episodes of future seasons.
General
Image
Song Title
Airdate(s)
Episode(s)
Rooting for the Enemy
October 10, 2016
Rooting for the Enemy
Don't Break Me
October 10, 2016
Sunny Side Up
Doctor Zone
October 17, 2016
The Doctor Zone Files
Chop Away at My Heart
October 17, 2016
The Note
March 8, 2017
Secrets and Pies
March 20, 2017
Battle of the Bands
(Saw Away at my Heart)
January 5, 2019
The Phineas and Ferb Effect
(feat. Baljeet)
March 9, 2019
Dog Walker, Runner, Screamer
I've Got No Excuses
October 17, 2016
The Note
Mister Go (I've Gotta Go)
October 26, 2016
Party of Peril
The Show Must Go On
October 26, 2016
Smooth Opera-tor
Murphy Family Vacation
March 6, 2017
Family Vacation
Welcome to Lard World
March 7, 2017
Murphy's Lard
I Want a Girl with a Suit of Armour
March 8, 2017
Secrets and Pies
You're the Best Remaining
March 9, 2017
Athledecamathalon
Athledecamathalon
March 9, 2017
Athledecamathalon
Science Teacher in Space
March 13, 2017
The Substitute
We're Going to the Zoo
March 15, 2017
We're Going to the Zoo
September 29, 2017
The Island of Lost Dakotas
December 2, 2017
A Christmas Peril
(I'm Going to the Zoo)
TLC
March 16, 2017
School Dance
Just Roll With It
March 16, 2017
School Dance
September 25, 2017
Disaster of My Dreams
February 23, 2019
Milo's Shadow
A Bumpy Ride Tonight
March 20, 2017
Battle of the Bands
Llama
March 23, 2017
The Llama Incident
I Can't Find You
July 22, 2017
Missing Milo
Safety Czar
September 25, 2017
Disaster of My Dreams
Just Messing Around
September 26, 2017
Perchance to Sleepwalk
I'm Taking a Stroll
September 26, 2017
Perchance to Sleepwalk
On the Open Sea
September 27, 2017
Some Like it Yacht
From Here to There
September 27, 2017
Some Like it Yacht
Turnabout Is Fair Play
September 27, 2017
Backward to School Night
World Without Milo
September 28, 2017
World Without Milo
Toboggan of Love
September 29, 2017
Love Toboggan
All Tied Up
September 29, 2017
The Island of Lost Dakotas
It's Not One Thing, It's Another
September 30, 2017
Fungus Among Us
The Last Halloween
October 3, 2017
Milo Murphy's Halloween Scream-A-Torium!
Everybody is Here
December 2, 2017
A Christmas Peril
| Image | Song Title | Airdate(s) | Episode(s) |
| --- | --- | --- | --- |
| | Pressure | January 5, 2019 | The Phineas and Ferb Effect |
| | How Do I Do It? | January 5, 2019 | The Phineas and Ferb Effect |
| | No Day Like a Snow Day | January 12, 2019 | Snow Way Out |
| | He's Coming Up | January 12, 2019 | Teacher Feature |
| | I Wanna Take Your Picture | January 19, 2019 | Picture Day |
| | It's Raining Cats and Dogs | January 19, 2019 | Agee Ientee Diogee |
| | Game Night | January 26, 2019 | Game Night |
| | Safety Car | January 26, 2019 | Pace Makes Waste |
| | Cake 'Splosion! | February 2, 2019 | Cake 'Splosion! |
| | Tobina | February 2, 2019 | Lady Krillers |
| | Lady Kriller | February 2, 2019 | Lady Krillers |
| | We Gotta Drive | February 9, 2019 | Doof's Day Out |
| | Skatin' and Dancin' | February 9, 2019 | Disco Do-Over |
| | Ticking Away | February 16, 2019 | The Ticking Clock |
| | Just Getting Started | February 16, 2019 | Managing Murphy's Law |
| | Do-Gooder Doof | February 23, 2019 | Sick Day |
| | I Chase You, You Chase Me | March 2, 2019 | Field of Screams |
| | You Go, Girl! | March 2, 2019 | Spy Little Sister! |
| | Wag Your Tail | March 9, 2019 | Dog Walker, Runner, Screamer |
List of songlets
This list contains jingles and other short songs that appear throughout the show
Season 1
Image
Song Title
Airdate(s)
Episode(s)
I Knew It
October 27, 2016
The Wilder West
Horseface the Equestrian Barbarian
March 6, 2017
Family Vacation
Ye Olde Pizza
March 8, 2017
Secrets and Pies
January 26, 2019
Game Night
He Will Be Our Leader
March 20, 2017
Battle of the Bands
Pistachios Jingle
July 22, 2017
Missing Milo
Hoverator Theme
July 22, 2017
Missing Milo
It's a Sad Dog's Life
September 27, 2017
Backward to School Night
Windowless Van
September 30, 2017
Fungus Among Us
This is Happening Right Now
December 2, 2017
A Christmas Peril
Season 2
Image
Song Title
Airdate(s)
Episode(s)
Doofenshmirtz Evil Jingle
January 5, 2019
The Phineas and Ferb Effect
January 19, 2019
Agee Ientee Diogee
February 23, 2019
Sick Day
Time Chips Jingle
January 5, 2019
The Phineas and Ferb Effect
Recurring Raccoon
January 19, 2019
Picture Day
January 26, 2019
Game Night
February 2, 2019
Cake 'Splosion!
March 9, 2019
Now I Am a Murphy
Zippy, The World's Fastest Koala
January 19, 2019
Picture Day
Don't Say It's Over
February 2, 2019
Cake 'Splosion!
He's Leaving
February 9, 2019
Doof's Day Out
Heinz Slaw
February 23, 2019
Milo's Shadow
James Kim
March 9, 2019
Now I Am a Murphy
And That's How You Know You're a Murphy
March 9, 2019
Now I Am a Murphy

Elliot Brand Safety Chutes Jingle
March 16, 2019
Freefall