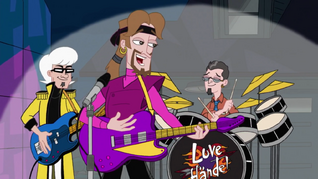 Love Händel is a local band from Danville who performed the song "Goulash".
Physical Appearance
Danny
Danny wears a purple 80's style shirt and has black pants. He also wears a black head band.
He has a dark brown beard and light brown hair put into a ponytail. On his ear, he has a golden earing. His eyes are dark brown.
Bobbi Fabulous
He wears a large yellow coat over a black turtleneck. He also wears black glasses and white pants.
His hair is pure white and he has a light gray goatee.
Sherman
Sherman, unlike Danny and Bobbi, didn't go back to his classic 80's clothes. Instead, he wears his librarian clothes which are made up of a red work shirt, blue tie, brown pants, light red shoes, and a black belt.
His hair is dark grey with a light gray streak through it. He also has a gray goatee. Unlike Bobbi, his eyes are visible through his glasses.
Band Members
Appearances
Trivia