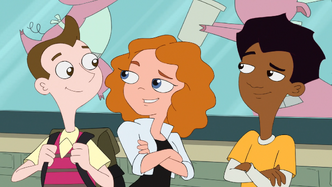 On the Disney XD cartoon Milo Murphy's Law, there are three main characters, those being the eponymous Milo Murphy, and his two best friends Melissa Chase and Zack Underwood. A majority of the episodes star and feature these three characters in their daily lives as middle schoolers, although it is possible for Melissa or Zack to either have a minor role in certain episodes, or to not appear at all.
List of Main Characters
| Image | Name | Description |
| --- | --- | --- |
| | Milo Murphy | Milo is the protagonist of Milo Murphy's Law. Having inherited Murphy's Law, he has a reputation for bringing bad luck with him, but he is always kind, thoughtful, and optimistic and finds ways to overcome it. He carries a seemingly bottomless backpack with him that always seems to have what he needs for any given situation. It was given to him by his old babysitter, Veronica, who was the only one able to handle Murphy's Law. |
| | Melissa Chase | Melissa is a long-time friend of Milo's who likes to hang out with him despite his bad luck, being the first person brave enough to do so. She is quite smart, but also a little scatterbrained, as she often forgets some of her personal belongings. Melissa is also extremely confident and enjoys betting on the results of Murphy's Law. |
| | Zack Underwood | Zack is the new kid in Danville who becomes friends with Milo and Melissa, sticking by Milo's side despite Murphy's Law. As the new kid, Zack often fills the role of a straight man. He was once the lead singer of a boy band called The Lumberzacks, and later leads a new band with Milo and Melissa. Zack also claims to be claustro-avoidant (afraid of enclosed spaces) and has a fear of fish. |
Trivia
Gallery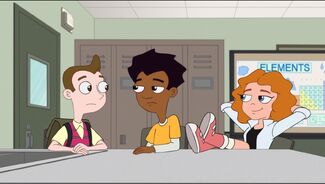 The image gallery for the Main Characters as a group may be viewed here.
See also