Jurassic World: Dominion Dominates Fandom Wikis - The Loop
Play Sound
"
Oh, that's not a curse! That's just inexperienced casting.
"

— Marcus after Murphy's Law ruins his hat on a fishing trip
Marcus Underwood is the husband of Doctor Eileen Underwood and the father of Zack Underwood.
He is voiced by Phil LaMarr.
Personality
He seems to be easy going and calm under pressure, as shown during his and Zack's fishing trip with Martin and Milo. Initially, he was skeptical of the existence of Murphy's Law, attributing the mishaps to things like 'inexperienced casting'. But once things really started going wrong, he was quick to accept it and even quicker to help.
He loves to tease and scare his son and has been doing so all of Zack's life.
Physical Appearance
Marcus has a round face, brown eyes, and dark skin. He has short, dark brown hair that is receding and a goatee.
He wears a blue short-sleeved shirt with a darker blue color on the ends of the sleeves and the collar. His knee-length shorts are beige, and he wears a pair of brown sandals that have a thick strap across each foot.
History
Past
He was shown in a flashback with his son and his wife on a boating trip where Zack got scared by a fish that landed on their boat.
Recent Events
In "Time Out", Marcus, Zack, Milo, and Milo's dad went on a fishing trip on Murphy's Yaw. At first, he doesn't believe in Murphy's Law, but throughout the day he eventually believes in the Murphy family curse.
In "Perchance to Sleepwalk", he and his wife were at a spa while their son and his friends went camping.
In "Milo Murphy's Halloween Scream-A-Torium!", his son revealed that he scared Zack every Halloween, much to his amusement. His most recent attempt had him dressed as a fish, his son's worst fear.
In "A Christmas Peril", he and his wife went to a Chinese restaurant at the mall with the Murphys, the Chases, Mort and Amanda.
In "Field of Screams", he doubts tha Zack can handle look after Cornelius Underwood's farm for a day on his own. At the end of the day he is proven wrong and congratulates his son and his friends.
In "Ride Along Little Doggie", he and his wife take pictures of Zack's failed interpretive dance performance at the Winter Break Awards.
In "Cast Party", he drops Zack off at school.
Gallery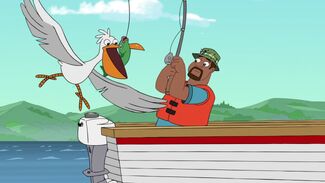 The image gallery for Marcus Underwood may be viewed here.
Quotes
"Son, you shouldn't get out of the boat."
—Marcus Underwood
"Every time he comes home with a rip in his jeans or covered in "Pterodactyl blood," he credits it to some Murphy family curse."
—Marcus about Zack
"Yeah, okay. Murphy's law, real thing."
—Marcus Underwood
"I used to love getting dressed up, and my dad used to love scaring me. And man, was my dad good at it! Every year it was something new, as far back as I can remember. He was always scaring me... And it was awesome!"
—Zack Underwood
Appearances
Season 1
Season 2
Trivia
He enjoys fishing.
He did not initially believe in Murphy's Law.