"
Oh right. So I-I just thought maybe I could tag along, and see how the kid deals with it.
"

— Heinz Doofenshmirtz
"Milo's Shadow"[2] is the sixteenth episode of the second season of Milo Murphy's Law.
Doofenshmirtz decides to shadow Milo for a day at school in order to learn how Milo deals with Murphy's Law, so he'd know how to deal with his own bad luck. Meanwhile, Cavendish joins a secret meeting with alien-believing conspiracy theorists.
Plot
Heinz Doofenshmirtz decides to shadow Milo one day to learn how Milo deals with Murphy's Law. On the way to school, he accidentally unleashes a flurry of paper that causes the bus to crash into Subterranus. At gym class, the class stretches due to Coach Mitchell going to an alien believers group, the Konsortium Of Otherworldly Knowledge Seekers, or KOOKS. At the group, Coach Mitchell talks with two others and are soon joined by Cavendish.
As Doof and the trio walk to science class, Doof gets hit on the head with the ceiling fans. When they reach class, a Bunsen burners goes haywire and Doof throws an Inator that makes pink foam. However, it fills the classroom.
Back with KOOKS, one of them tells the story of an abduction. Cavendish takes notes until Coach tells him this is private.
Back at school, Doof sees a baseball and shoots it with his Shrinkinator, but it grows and goes rolls around the school. When it gets out side he releases that he missed and hit the school. He fixes it and scares Elliot in the process.
Cavendish tells KOOKS that aliens are real and that the government is covering up their existence. They believe him until he reveals he handles their trash. However he insults them and they throw him out.
At school Diogee arrives and Doof fires his Go Home-Inator, but it misses and hits various reflective surfaces, causing random citizens of the city to go home, including a the Octalians who are about to disintegrate Cavendish due to them thinking he knows too much. Doof does an 80's style victory dance before falling through the floor when a ceiling fan hits him on the head.
At the bus stop, Doof is upset that he did not learn anything to help him. But Milo tells him to think things through more, which he declines.
Transcript
For a full transcript of "Milo's Shadow", click here.
Gallery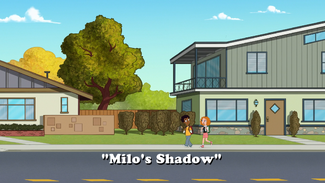 The image gallery for Milo's Shadow may be viewed here.
Songs
Videos
Trivia
Allusions
Phineas and Ferb: When Doofenshmirtz is talking about his past Heinz Law's occurrences, he mentions his building's top getting ripped off by a giant ball of tinfoil ("Rollercoaster") and being tied to a birthday... (he doesn't get to finish the sentence), this could allude to the fact that he was tied to his daughters birthday rocket in "Dude, We're Getting the Band Back Together".
Errors
Evan Chaffy mentions that the Choir get the room at 10:30, however the clipboard outside the room reveals it to be 11 with the KOOKS meeting starting at 10:30.
Characters
International Airings
Germany: September 20, 2018
India: 14 November 2018
Japan: 10 February 2019
Southeast Asia: March 29, 2019
References