These are non-human characters who have been shown or identified but have not yet had any significant roles.
Brandi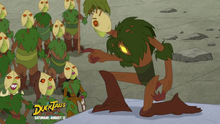 Brandi is a character who appears in the special, "Missing Milo". She is one of King Pistachion's created goons. She has waist length black hair.
King Pistachion borrows her phone to take a group selfie.
She is named after the line producer, Brandi Young. [1]
Appearances:
Cavendish Lookalike Cat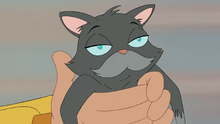 The cat appears briefly in the episode, '"The Little Engine That Couldn't"', falling into Dakota's arms, much to his delight. He comments on how much it looks like Cavendish, which Cavendish promptly denies, only to be mocked by the cat in a manner very similar to his own.
The cat is still with them at the end of the episode, where once again it mimicks Cavendish, prompting Dakota to grin and point out the similarities once more.
Appearances:
Deborah Sue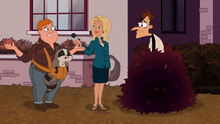 Deborah Sue is a raccoon under the care of Sally. Initially, it escaped the Nature Center thanks to Doofenshmirtz but has since been returned. Deborah Sue travels with Sally on a baby carrier over her chest.
Appearances:
Dennis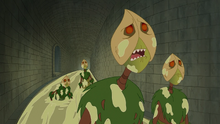 Dennis is one of the Pistachions under Derek's new Pistachion army.
In Fungus Among Us, he and other Pistachions set out to capture Milo, Diogee, Cavendish, Dakota, and Orton Mahlson after they break into their prisons at Lard World. The five of them escape in a boat in the underground lard disposal system just as Derek called to check on their progress in catching them.
Appearances:
Gary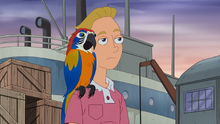 Gary is a parrot that belongs to the Captain of the cargo ship Dakota took to The Island in 'The Island of Lost Dakotas'.
Gary, much like the Captain, strongly dislikes Dakota.
Appearances:
Klimpaloon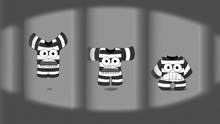 Klimpaloon is an old-timey bathing suit who lives in the Himalayas. He appeared in Phineas and Ferb before appearing in a zoetrope on Milo Murphy's Law. He is the first Phineas and Ferb character to appear in Milo Murphy's Law, and the only one to appear before "Missing Milo".
Appearances:
See Also:
Princess, Buttercup, and Psycho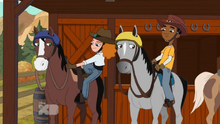 Princess, Buttercup, and Psycho are three horses owned by the Nowhere Desert Dude Ranch. In The Wilder West, Milo, Melissa, and Zack rode them while visiting the ranch.
Psycho is named ironically, as he is the calmest horse on the ranch. He was not at first for Milo, however.
Appearances:
Rex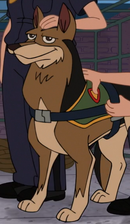 Rex is the K-9 partner of police officers Fuller and Hastings. In his only appearance, he was kidnapped by Zippy for ransom, but was saved by his police officer partners and Diogee.
Appearances: