"
Guess going with the flow makes me really tense.
"

— Mr. Brulee, "Family Vacation"

Mr. Brulee is the patriarch of the Brulee family, who accidentally go on a vacation with Milo in "Family Vacation".
He is voiced by Rob Morrow.
Personality
Mr. Brulee is a friendly man with a strong love for routine. When their schedule got tight, he put sticking to their plans above any human necessities and began to panic as Murphy's Laws caused it to unravel around them. In spite of this, he was kind enough to help Milo get back to his parents.
He cares a lot about being a decent person, claiming he pays his taxes and even refuses to skip commercials on the radio because he's afraid their money will go to waste. Because of this, Mr. Brulee seems to wonder why karma is against him.
The family has a number of jars dedicated to Mr. Brulee's habits, including, but not limited to, 'Unnecessary wordplay during crisis' and 'Unnecessary use of grand'. Each time he breaks one of the rules, a member of his family holds out the jar for him to put a dollar into.
Physical Appearance
Mr. Brulee has light skin and a strong chin. He has blue-gray eyes with visible pupils and short brown hair. He wears a blue polo shirt and a pair of dark blue jeans held up by a black belt, alongside a pair of black sneakers.
History
In "Family Vacation", he accidentally picked up Milo Murphy on an RV family vacation to the Grand Canyon. His RV got snagged onto Hamosaur and promptly fell into the Colorado River. There he met the rest of the Murphy family.
In "World Without Milo", He and his wife hear Elliot Decker scream "Reign!". They both seem noticeably confused.
In "Fungus Among Us", The Pistachions kidnap him and imprison him at Lard World.
Relationships
Mr. Brulee is close to his wife, who seems just as excited as he does about visiting the grand canyon again. Like him, she learns to see the excitement in being spontaneous by the end of their adventure.
Charlene and Sharon are his twin daughters. He cares about them dearly, calling them the 'identical apples of his eye', but he ignores them when they express their boredom over visiting the grand canyon and their desire to see someplace new.
Gallery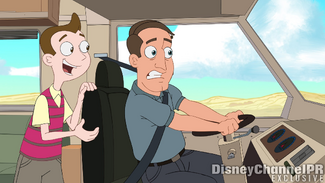 The image gallery for "Mr. Brulee" may be viewed here.
Quotes
"Come on girls, it's your favorite canyon. It's everyone's favorite canyon."
—Mr. Brulee
"I'm sorry identical apples of my eye, we got a schedule to keep. I mean what if we liked it and wanted to stay longer; the whole vacation would unravel! Come on gang! The canyon's waiting impatiently for our arrival!"
—Mr. Brulee
"Ok! We can still make the Grand Canyon if we hurry. No stopping for bathroom breaks or food or any other human necessities."
—Mr. Brulee
"I can't break the break, the break that broke!"
—Mr. Brulee
"Why is this happening? I pay my taxes, I mow my lawn, I don't even change the radio station when the commercials come on because I feel guilty making their money go to waste. Why is this happening to me!"
—Mr. Brulee
"I'm being chased by Jurassic pork!"
—Mr. Brulee
"But we're losing precious time that could be spent standing and staring at a massive crevasse... I just heard myself."
—Mr. Brulee
"And you must be nuts! How can you be so calm? We are driving down a raging river pulling a dinosaur made of ham!"
—Mr. Brulee
"I guess Milo showed us there's more to vacations than the Grand Canyon."
—Mr. Brulee
Appearances
Season 1
Season 2
Trivia
Community content is available under
CC-BY-SA
unless otherwise noted.