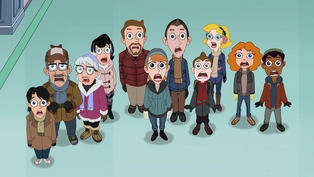 The Murphy family is made up of 9 members of Milo's family. They reunited for a family gathering in the episode, "A Christmas Peril".
Each family member with Extreme Hereditary Murphy's Law adds to the effects of Murphy's Law when they are in proximity to each other. Because of this, Murphy family gatherings have the potential to cause catastrophes on a much larger, more frequent, and at times global scale.
Only males of the Murphy family line inherit Murphy's Law, although Nate Murphy is convinced that it skipped a generation and he doesn't have it.
Members
Past members
Sheriff Murphy (Milo's Great-great-great-great Grandfather)
Other unnamed relatives between the years 1871 and 1937.
Milo's great-great Grandfather, who was the captain of the S.S. Murphy.
Jebediah Murphy and his son, Obediah.
History
Early History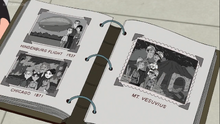 The Murphy family are descendants of Sheriff Murphy, the original Murphy of 'Murphy's Law'. There are a number of other early members of the Murphy family recorded in the 'Murphy Vacations' photo album, with their vacation spots all being points of major disasters in history.
Before Sheriff Murphy's time, Jebediah Murphy began the traditional Murphy initiation with his son, Obediah. This tradition has carried on through the generations and was most recently carried out by Grandpa Murphy and Martin, who initiated Milo.
Recent Events
The Murphy family used to gather annually to celebrate Christmas and other events together but eventually ended the tradition sometime before the events of "A Christmas Peril", possibly due to the magnitude of the disasters their gatherings caused.
Gallery
Trivia
Even though Heinz Doofenshmirtz frequently calls Brigette and Martin his "Mom" and "Dad", Doof is not legally considered a Murphy.