"
This is my cousin Nate! He's in denial about the whole 'Murphy's Law' thing.
"

— Milo introducing Nate

Nate Murphy is the son of Joey and Laura Murphy, nephew of Martin and Brigette Murphy, and a cousin of Milo and Sara Murphy. He is under the impression that Murphy's Law skipped him.
He is voiced by Diedrich Bader.
Personality
Very much unlike the other Murphys, Nate has shown himself to have a pessimistic outlook on both life and Murphy's Law in general. This trait is highlighted by his constant denial of his having EHML in spite of all that goes wrong around him. He tends to get annoyed when the others don't agree with this claim.
In spite of this, he seems to care for his family dearly. He is happy to see them all and greets each person with a smile and a hug.
Physical Appearance
Nate is a young man with black hair and dark blue eyes. In "A Christmas Peril", he wore a long brown coat with a green scarf and a pair of black, fingerless gloves.
History
In "A Christmas Peril", Milo meets Nate at the airport after his flight lands. Before they can leave they find out Nate's luggage is missing, and chase it onto an airplane, which promptly takes off. The two of them parachute down and then go on to pick up the rest of the Murphy Family.
Gallery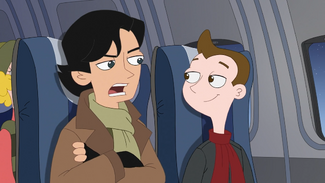 The image gallery for Nate Murphy may be viewed here.
Quotes
"I'm not in denial, I just don't have it. It skipped a generation."
—Nate Murphy
"Aunt Laura: Did he tell you it skipped a generation in our family?
Milo: He did!
Aunt Laura: Isn't that adorable?"
—Laura and Milo about Nate denying having Murphy's Law
"I don't have it!"
—Nate Murphy
"Nate: That's it? Hope for the best or freeze to death?
Melissa: You don't get to talk."
—Melissa scolding Nate
Appearances
Trivia
Nate is the only known Murphy who is not upbeat.
He's likely in denial of having Murphy's Law as he is shown to be quite disaster-prone.
Judging from the photo seen at the beginning of "A Christmas Peril", he appears to be around Sara's age.