The Nowhere Desert Dude Ranch is a ranch outside of Danville, "Where you can experience the serenity of the wild frontier."
It appears in the episode "The Wilder West", and is visited by Sara, Milo, Melissa, and Zack while Martin and Brigette go shopping at an outlet mall across the road.
Activities
The ranch features a variety of activities and boasts several distinct terrains. The brochure includes:
Horseback riding
Archery
Whitewater rafting
Ziplining
Cattle roping
An open bonfire
A hayride around the open vonfire
Occupants
Javier greets Milo and his friends when they arrive, and goes on to answer any questions they have. Jackie also appears to be a prominent figure there, scaring the guests and giving her own, much more dangerous version of the tours.
Four horses are revealed on the ranch, with Milo, Melissa, and Zack riding Princess, Buttercup, and Psycho. A much more noteworthy occupant is a very old horse named Doctor Zone, so named because an episode of Doctor Zone was filmed there.
There is also a dangerous bull being held by a shackle, which Jackie casually refers to as a killer.
Trivia
There is some confusion over the property's name as the sign above the front gate reads, "Off-Ramp Ranch" but the ranch foreman refers to it as the "Nowhere Desert Dude Ranch".
Gallery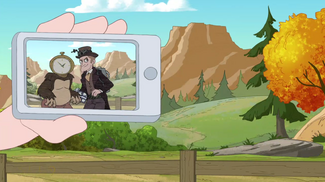 The image gallery for Nowhere Desert Dude Ranch may be viewed here.