Jurassic World: Dominion Dominates Fandom Wikis - The Loop
Play Sound
"
Milo: Hey, could you guys use a blowtorch and some peanut butter?

Phineas: How can we not have met before today?

"

— Milo Murphy and Phineas Flynn, "The Phineas and Ferb Effect"
Phineas Flynn is one of the titular characters of Phineas and Ferb. He is the step-brother of Ferb Fletcher and the younger brother of Candace Flynn. He appeared in "The Phineas and Ferb Effect".
He is voiced by Vincent Martella, who reprises his role for the crossover.
Personality
Throughout the battle against the Pistachions, Phineas was optimistic and kind-hearted, even arguing against his sister when she told him they should strengthen their chances by removing Milo from the mission to prevent Murphy's law from holding them back.
He also happens to be incredibly inventive in accordance with the rest of his optimistic personality, having arrived alongside his brother, Ferb, in a giant tennis racket machine they'd been using for a game. After the Pistachion takeover, they immediately repurposed their machine to use against the invading plants as they rescued their friends. Later, he was instrumental in studying Murphy's law and building the Murphy's Law Suit.
In direct contrast to Milo having Murphy's Law, Phineas, like his brother, was discovered to have a natural positive field of probability ions surrounding him, causing things around him to work towards a positive outcome.
Physical Appearance
Phineas has vibrant, spikey red hair, deep blue eyes, and a triangle-shaped head with three small freckles above his ears. He wears an orange and white striped T-shirt with a pair of blue cargo shorts that have a pocket on either side, and blue sneakers with white soles.
Abilities
Phineas is very ingenuitous, imaginative, intelligent, musical, mechanically inclined, resourceful, and versatile.
Omnifabrication: Like Ferb and Doofenshmirtz he can invent and create any item, device, weapon, etc. He can with limited resources in exceptionally short time as shown in various Phineas and Ferb episodes.
Intelligence: like his brother Ferb he is intelligent for a kid his age.
Inventing: during the summer he is very skilled at inventing things, like his brother Ferb.
History
Phineas is optimistic and tries to live life to the fullest by looking for ways to make it never boring even for a minute, often with help from his stepbrother, Ferb Fletcher.
Recent Events
In "The Phineas and Ferb Effect", Phineas saved his friends, alongside Melissa and Zack, from the Pistachions. After running into Milo, he travels with the others to a workshop, where he helps invent a suit they could use against the Pistachions. Phineas escapes capture on time to be one of the sole survivors at the end of the battle.
Eventually, Phineas and Ferb witnessed the arrival of the creator of time-travel named Professor Time, who turns out to be Heinz Doofenshmirtz from the future. Recognizing Doofenshmirtz earlier as he happens to be the father of their friend Vanessa, Phineas and Ferb watch as Professor Time takes Orton Mahlson back to 1955 to erase the Pistachions from existence for good, much to their relief.
Gallery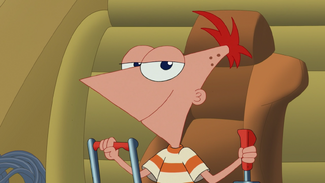 The image gallery for Phineas Flynn may be viewed here.
Quotes
"That's weird. Both the primary and backup hydraulics are out. And that never happens!"
—Phineas Flynn
"No, Candace. We need all the soldiers we can get! But there's gotta be a workaround for this "Murphy's Law" effect."
"Well, what do you usually do when things go wrong?"
"...We have no frame of reference for that."
—Phineas and Melissa Chase
"Wait! You don't have to turn us into plants. There's gotta be a way we can coexist. I mean, haven't you seen the bumper stickers?"
—Phineas Flynn
"That's my pet platypus. He doesn't do much."
—Phineas Flynn introducing Perry
"Ferb, look, it's Vanessa's dad! You remember him!"
—Phineas Flynn meeting up with Dr. Doofenshmirtz
"Hey, could you guys use a blowtorch and some peanut butter?"
"How can we not have met before today?"
—Milo Murphy and Phineas Flynn
Appearances
Season Two
Trivia
External links