Pio is a poodle that has a massive crush on Diogee.
She is voiced by Brock Powell.
Personality
She is extremely energetic and happy at all times.
Physical Appearance
She has fluffy white fur all over her body with light green eyes. She also has a golden dog collar around her neck that has a pink jewel in the middle.
History
In "Dog Walker, Runner, Screamer", when Milo picks her up she is beaming with excitement, which only grows when she sees Diogee and immediately tries to get together with him. Diogee does not, however, show the same excitement towards this action.
Later Pio is seen running off distracted chasing a butterfly, but Milo gets her attention by picking up Diogee and moving his paw to make it look like he's waving at her. She responds by running back to Diogee, Milo, and the rest of the dogs.
When Milo drops Pio off back to her owner, she looks back at Diogee, who winks back at her. This causes her to faint backwards.
Gallery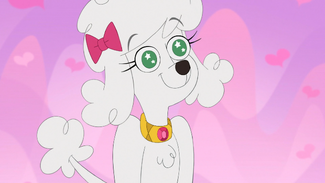 The image gallery for Pio may be viewed here.
Appearances
Trivia
She is the first dog to be picked up by Milo and the last one to be dropped off.
The way she acts with Diogee (until the end of "Dog Walker, Runner, Screamer") is similar to Looney Tunes' Pepé Le Pew's aggressive pursuit of Penelope Pussycat, but in reverse.