The Play Park Go-Cart Fun Track is a well-known go-cart track in Danville.
The Park
As a Go-Cart track, the majority of the park consists of a large track lined with tires. The track is surrounded by high fences and nets.
Outside of the track itself, the park has a concession stand, a parking space, and a number of large, covered areas full of camp tables.
The Go-Carts themselves come in a variety of colors, each with its own number.
History
Milo's birthday was celebrated here and was attended by his family and a variety of classmates. Aside from being covered in cake and ice cream, the park received minimal damage ("Party of Peril").
Balthazar Cavendish and Vinnie Dakota spent some of their ditch day here, with Cavendish somehow getting a ticket from a police officer ("Perchance to Sleepwalk").
Gallery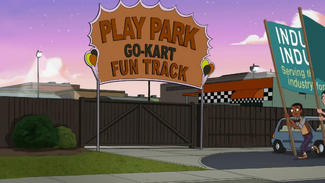 The image gallery for Play Park Go-Cart Fun Track may be viewed here.
Trivia
They own fire extinguishers and first-aid kits.
Appearances