Science Teacher in Space is the song heard during the Season 1 episode, "The Substitute", when the substitute teacher - Ms. Baxter - accidentally activates one function on the Quantum Localizer, trying to turn it off after mistaking it for Melissa's cell phone, and gets sucked in by some kind of space-time vortex into space.
Lyrics
Substitute science teacher in spa-a-ace
Can you teach them in the brief interval where your lives overlap?
How will you ever know-ow?
How will you ever know-ow?
Science teacher in space...
Gallery
The image gallery for Science Teacher in Space may be viewed here.
Chords
Note that the information and chord chart below were created by an editor.
If you find an error you may correct it or post a message to the editor who uploaded the chart on their message board and it will be addressed.
Due to the way wikis display text it is necessary to convert chord charts to an image so the chords will line up above the text where the chords occur.
These images often display poorly on wiki pages.
If you open the image, choose "See full size image" and then save it to your computer, you can print the chart. It will print at a much higher resolution than what appears here.
In this format it's difficult to get the D, Ds4, D, Ds2, D to line up with the lyrics correctly. If you're not familiar with this pattern of 'D' variations I suggest that you play around with it a bit before trying to fit into this song.
Just playing D works with the song if you have trouble with it.
Also, there's a "mini riff" stuffed in the Bb. The notes are, A, Bb, pause, A, Bb, pause, A, Bb, C, D, ending so the D is played with the chord when you change to D. (The second time it ends with a G instead of D on the G chord change.)
The second time "How will you ever know" is sung, the G - C are played arpeggio on the three high strings.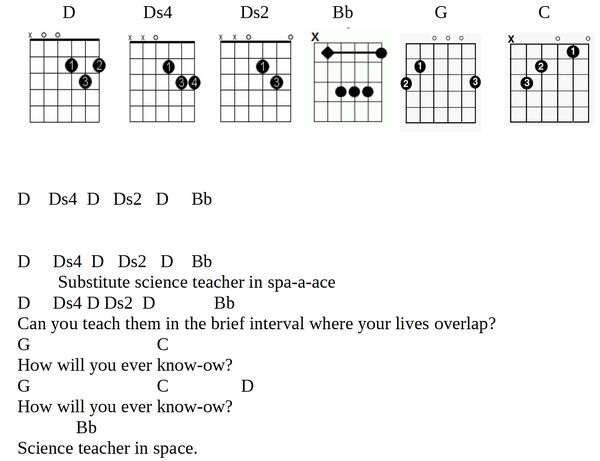 Trivia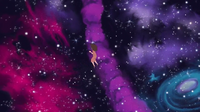 This song is similar to a real-world song, Space Oddity, written by David Bowie.
Ms. Baxter's hair and skin continuously change during the song.
Ms. Baxter appears to be able to breathe, making it some kind of "space" that has breathable air. Or possibly, it's an error.
According to Robert F. Hughes on YouTube, this song actually had a second verse but it was trimmed before animation.
Community content is available under
CC-BY-SA
unless otherwise noted.