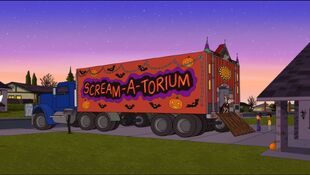 The Scream-A-Torium (spelled as Scream-a-Torium in closed captions) was a haunted house that Milo Murphy made from a truck that was decommissioned by Martin Murphy.
Description
The Scream-A-Torium is a large truck. Decorated by Milo for Halloween, the trailer is a bright orange color with the words 'Scream-A-Torium' labeled across the side in neon green lights. The sides also feature a number of black bats and orange Jack-o-lanterns, with a decorative metal chain strung across the top.
The back of the Scream-A-Torium is a Hollywood front made to look like a building with a large round stain-glass window, a small roof, and a stone doorway which can be accessed by a wooden drawbridge.
There is a stone gargoyle on the top alongside a small brown fence and two symmetrical green and purple cones on either side of the trailer. After pulling a remote lever, Milo reveals a large witch, a vampire, and a werewolf that spring from the top of the Scream-A-Torium.
Interior
The interior seems to contain a hallway maze through many spooky rooms. It has plenty of scary decorations within, from hanging ghosts to various picture frames, spider webs, graves, and coffins, one of which contained Mr. Drako.
History
In Milo Murphy's Halloween Scream-A-Torium!, Milo leads his friends into the Scream-A-Torium for Halloween. Little do they know, the truck is accidentally set moving. After going through a variety of warehouses and getting covered in various candy, taxidermy, and mannequin parts, it lands in the middle of Mort and Chad's Halloween party just on time to impress all of the young children.
Gallery
The image gallery for Scream-A-Torium may be viewed here.
Quotes
"So, here's the deal. Milo's building a haunted house in an old truck. You can see where this is going. I mean, Milo, building a house of horror, what could possibly go wrong?"
—Gargoyle
"Welcome to the Scream-A-Torium! Behold our first fright."
—Milo Murphy
"I don't want to get carsick right before I die!"
"You're not gonna die. Just push the parachute button."
"So there's a parachute button but no engine?"
"Yeah. Who needs an engine when you're falling?"
"I have no response to that."
—Zack Underwood and Milo Murphy
Appearances
Community content is available under
CC-BY-SA
unless otherwise noted.