"Sick Day"[2] is the seventeenth episode of the second season of Milo Murphy's Law.
Octalian agents Loab and Khone are assigned to retrieve a tissue sample of Milo, who just so happens to be sick that day. Their shapeshifting helps them sneak around, but they get spotted by Diogee. Meanwhile, Doofenshmirtz wants to act like a superhero and is delighted that Perry wants to be his sidekick, not knowing that Perry was assigned to undo any potential harm Doof would cause by accident.
Plot
The Octalian Commander assigns Loab and Khone to sneak into the Murphy residence to take a tissue sample of Milo's DNA. At the house it is revealed that Milo is sick, and his friends come to give him his homework. As they leave, the aliens sneak into the house to try and find Milo. After multiple close calls, they make it to the second floor. However, when they reach Milo's bedroom, Diogee notices them. So Diogee keeps them away from Milo and the two flee through his window. The commander is furious and goes to get the sample herself by disguising herself as Milo's mom. She obtains a used tissue from Milo's bed before leaving. When back on the ship, the captain analyzes the tissue and sees that Milo has more negative probability ions then they originally thought and they plan to abduct Milo.
Meanwhile, Doofenshmirtz goes around Danville in a chicken-themed supersuit trying to do good with his inators (and Perry as his sidekick). Unbeknownst to him, however, Francis Monogram had ordered Agent P to keep the negative effects of Doof's careless actions to a minimum and keep him distracted. At the end of the day, Monogram accidentally reveals to Doof what Agent P was really doing all day. The news greatly devastates Heinz.
Transcript
For a full transcript of "Sick Day", click here.
Songs
Gallery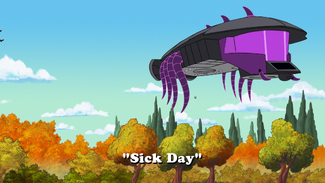 The image gallery for Sick Day may be viewed here.
Videos
Trivia
Brigette stated that Murphy's Law weakens when someone who has EHML is ill.
If something is in triplicate there are three copies of it.
Doofenshmirtz now learns that Perry was taking care of his messes he caused and he and Perry are no longer friends.
This episode has Milo onscreen for the shortest amount of time on the show.
Allusions
TBA
Characters
International Airings
Germany: September 20, 2018
India: 14 November 2018
Japan: 10 February 2019
Southeast Asia: March 29, 2019
References
Community content is available under
CC-BY-SA
unless otherwise noted.