Smooth Opera-tor

The Show Must Go On.
Season:
TBA
Production code:
104b
Broadcast order:
8
Broadcast Information
U.S. Premiere:
October 26, 2016 (Disney Channel)
October 27, 2016 (Disney XD)
International Premieres:
see below
| | | |
| --- | --- | --- |
| " | Murphy's Law or not, the show must go on | " |
Smooth Opera-tor is the eighth episode in the first season of Milo Murphy's Law. It aired on October 26, 2016.[1]
Episode Synopsis
Milo goes to the opera and when things go wrong, he ends up center stage. [2]
Plot
Cold open
Episode
Transcript
For a full transcript of "Smooth Opera-tor", click here.
Song
Mezzo Soprano Opera/The show must go on sung by Milo and another actor.
Gallery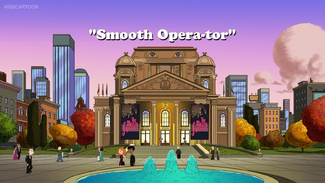 The image gallery for "Smooth Opera-tor" may be viewed here.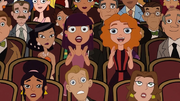 Notes
International Airings
January 18, 2017 (Spain)
February 4, 2017 (Latin America)
February 16, 2017 (Japan)[3]
February 24, 2017 (Southeast Asia)
July 5, 2017 (Israel)
Trivia
The pistachio protectors make another appearance.
Recoloured versions of Isabella's dad and a member of Ferb's great grandmother's tea party are seen meeting in front of the opera.

They are seen separately afterwards among many other less notable Phineas and Ferb Background characters

Among the many objects that fall from the roof when the background screen collapses are the cat, the two elders playing checkers and the guy with a poodle who were also disturbed when the football field was ripped up by a drill in Rooting for the Enemy
The performers who join together for the impromptu finale includes all 6 actors (7 including Milo) seen on stage, two actors who were startled by the fire extinguisher back stage, and the man in the giraffe costume who ran across the stage earlier, leaving only two people previously unseen in the episode.
"Smooth Opera-tor" was one of the first episodes of the series to premiere on Disney Channel before airing on Disney XD.
Errors
During the performance the positions of the audience around Melissa and Amanda changes. Most notably, in some shots Milo and Zack's vacant seats have been taken
Characters
References
↑ http://tvschedule.zap2it.com/tv/milo-murphys-law-party-of-peril-smooth-opera-tor/EP023630960004?aid=tvschedule