Star Struck

Milo and Tobias.
Season:
1
Production code:
112a
Broadcast order:
24
Synopsis
Milo wants to get an autograph from his favorite actor, Tobias Trollhammer, who is shooting a film in town.
Broadcast Information
U.S. Premiere:
September 25th, 2017
International Premieres:
see below
"
The most noble thing you can do is support the ego of a man who pretends to hunt krill.
"

— Krillhunter crew member
"Star Struck" is the 24th episode in the first season of Milo Murphy's Law. It aired on September 25, 2017.
Tobias Trollhammer is shooting the latest Krillhunter movie in Danville, and Milo desperately wants his autograph, for he is Milo's favorite actor. However, the rather superstitious and worn-out Tobias mistakes him for a Scandinavian goblin called the Menninkäinen.
Plot
Milo, Zack, and Melissa are waiting in line for an autograph from Tobias Trollhammer, Milo's favorite actor. They soon learn that no one wants his autograph, and everyone feels he is a has-been. The three learn he is filming a movie nearby but are stopped by Elliot. After getting past him with the help of Mort and Murphy's Law, they encounter Tobias, who mistakes Milo for a goblin from Scandinavian folklore bent on eating his soul. Then Tobias flees, and Milo, Zack, Melissa, and the film crew give chase.
After they make their way to a life-sized remote-control car race, the three groups ride on the models before a tour boat lands in front of them. Tobias and Milo jump on the boat and Milo convinces him he is not after his soul but rather his autograph and saves them with the boat's anchor. Tobias thanks Milo and the director thinks that Tobias can be hot again by making a movie just of the chase. After he learns that film stock and video tapes are now rare, he pockets the memory card that the camera-man had in his camera and pushes him into the river for getting him so worried that nothing was recorded.
Transcript
For a full transcript of "Star Struck", click here.
Songs
None.
Gallery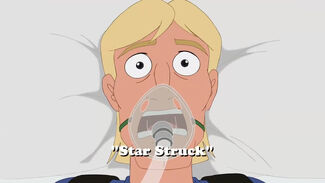 The image gallery for Star Struck may be viewed here.
Notes
International Airings
October 4, 2017 (Disney Channel Israel)
Januar 27, 2018 (Hungary)[1]
February 25, 2018 (Japan)
Trivia
The title is a reference to the word "starstruck", a term for someone who gets overwhelmed when meeting a famous person.
Mrs. Brulee can be seen on the tour boat.
Reggie has a Doctor Zone shirt.
First episode to not show Milo's "signature flip".
Allusions
Phineas and Ferb - The gaffer is wearing a Nostrils hat and a T-shirt that has the team's colors from the Phineas and Ferb episode "My Fair Goalie".
Focus Features - One of the production companies, Blurry Pictures, is a parody of the real production company.
The Smurfs - It is possible that Milly and the Menninkäinen is an allusion to the Smurfs original series, because the title card for Milly and the Menninkäinen shares the same background and character position as the Smurfs character card that shows Jokey Smurf holding a present box and chasing an unsuspecting smurf.
Errors
A press release said that the famous actor that Milo was a fan of was Tobias Toopanen, but in the aired episode, his name is actually Tobias Trollhammer.
Milo said that a Menninkäinen is a goblin from Scandinavian folklore, but Menninkäinens are really from Finnish folklore. This error possibly originates from the common misconception that the Nordic Countries and Scandinavia are the one and the same, when Scandinavia only includes Denmark, Norway, and Sweden. The Nordic Countries include Finland and Iceland alongside the former three aforementioned countries.
Locations
Cast and Characters
References
Community content is available under
CC-BY-SA
unless otherwise noted.