Mr Decker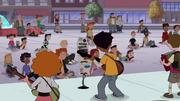 Ms Decker
was seen hanging out closely with a background character in
Managing Murphy's Law
, who appears to be called
Josh
. Could this be Mr Decker?
Elliot
did briefly
interact
with Josh in
World Without Milo
without any acknowledgment. I don't know if we have enough evidence to say with any certainty but thought it was worth mentioning.
PhinFerbFan5 (talk) 07:19, March 1, 2019 (UTC)
Whaaaaaaaaaat?! Man, this was worth mentioning! I hope it's a thing and not a one-off drawing, Josh looks cool. Although there's a good chance it's the latter, especially with that other interaction you pointed out. Your strangely keen eye and awe-inspiring dedication to background characters never ceases to impress me.
Serendipitacely (talk) 07:38, March 1, 2019 (UTC)
Keen eye PhinFerbFan5! Seriously, I hadn't even noticed Mrs. Decker, let alone Mr. Decker!
--The Milo Murphy's Law Wiki Guy (talk) 07:54, March 1, 2019 (UTC)
Thanks guys! It would be cool for it to be a thing. Mr. Garcia-Shapiro didn't get a prominent appearance in Phineas and Ferb so you never know.
PhinFerbFan5 (talk) 08:13, March 1, 2019 (UTC)
That theory didn't last long. Alternatively, as they have similar body types, they may be relatives.
PhinFerbFan5 (talk) 11:28, April 30, 2019 (UTC)
Community content is available under
CC-BY-SA
unless otherwise noted.