"The Wilder West" is the tenth episode in the first season of Milo Murphy's Law. It first aired on October 27, 2016.[1]
Milo and his friends visit a dude ranch. While horseback riding, they meet a girl named Jackie who joins their posse, and Zack becomes smitten with her, but Jackie leads them into more danger than usual. Meanwhile, Sara is going crazy because the ranch reminds her of scenes from Doctor Zone, and invites other fans to join her in the geek fest.
Plot
Brigette and Martin Murphy drop Milo, Sara, Melissa, and Zack off at the Nowhere Desert Dude Ranch while they head to the nearby outlet mall, which they frequently do due to not having to pay as much for items broken due to Murphy's law effects. Javier soon takes charge of the kids and introduces the younger trio to horses Princess, Buttercup and Psycho before directing Sara to another corral after hearing about her interest in Doctor Zone. While out riding, Milo and his friends encounter Jackie, a descendant of Calamity Jane, whom Zack falls head over heels for, though his friends worry about the potential danger of Milo and Jackie being near each other. Meanwhile, Sara concludes that the ranch is the long unknown filming site of a Doctor Zone episode, and contacts several fellow fans-including Wally and Kris-to come investigate with her.
Despite Milo and Melissa's misgivings, they spend the day with Jackie, whom smitten Zack is constantly trying to impress. However, he eventually realizes that she is a thrill-seeking daredevil with little to no regard for safety, and finally ceases following her blindly. Meanwhile, Sara's friends are disappointed when Javier seemingly disproves their theory about the ranch's connection to Doctor Zone, but she learns that she was on the right track after they depart. The Murphy parents then return and pick up the kids, with Zack saying goodbye to Jackie and Mrs. Murphy forgetting Sara for the second time that day.
Transcript
For a full transcript of "The Wilder West", click here.
Songs
Gallery
The image gallery for "The Wilder West" may be viewed here.
Trivia
Errors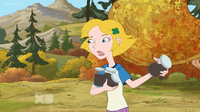 Notes
International Airings
Locations
Cast and Characters
References
↑

tvlistings.zap2it.com/tv/milo-murphys-law-worked-day-wilder-west/EP023630960007?aid=zap2it