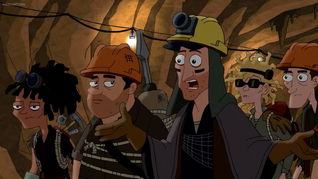 The Undergrounders are a group of railway track workers who, after getting lost, formed a new society known as Subterranus. Eventually, with the help of Diogee, Milo, and his friends, they were lead back up to the surface, where most of the group dispersed in favor of returning to their old lives.
Current members of the group include a pipe-fitter named Scott and a milk carton named Mildred. Notable former members include Dave, who was the leader, and a member who was simply credited as Foreman.
Members
| Image | Name | Status |
| --- | --- | --- |
| | Scott | Current Member |
| | Mildred | Current Member post-"The Undergrounders" |
| | Foreman | Former Member |
| | Dave | Former Leader |
| | Unnamed Member 1 | Former Member |
| | Unnamed Member 2 | Former Member |
| | Unnamed Member 3 | Former Member |
History
In The Undergrounders, Diogee helped them find a way out of the tunnels after a Murphy's Law related incident causes Milo, Zack, and Melissa to find them living below the city. While the majority of the members chose to go back to their old lives, Scott stayed underground.
In Battle of the Bands, Scott enters the battle of the bands with a new group of Undergrounders.
In Missing Milo, Scott helps Zack and Melissa escape Brick and Savannah through the underground. He then scolded Mildred for 'giving him that look'.
Gallery
The image gallery for the Undergrounders may be viewed here.
Quotes
"Wait a minute, who are you guys?"
"We live below. They call us... 'The Belownies'"
"No they don't Scott. We voted on this. 'Belownies' sounds like a lunch meat. We're called the Undergrounders."
—Milo Murphy, Scott and Foreman
"How long have you been down here?"
"Since... 'the before times'."
"Uh, about a month, actually. We were building an extension on this line, but we got lost so we figured we'd better establish a new civilization."
—Zack Underwood, Scott and Foreman
"Hey, it's that weird guy!"
"The undergrounder!"
—Zack Underwood and Melissa Chase, about Scott