Jurassic World: Dominion Dominates Fandom Wikis - The Loop
Play Sound
The Underwood residence is the home of the Underwood family, consisting of Marcus, Eileen, Zack, and Zack's two little brothers. 
House
The house is a large, two-story home with a two car garage and a tidy yard. There are a couple of chairs in front of the house, facing the road. 
Zack's Room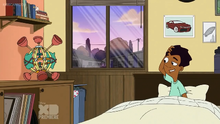 Zack's room has peach colored walls and very light yellow colors- the latter having wooden paneling that comes almost halfway up the wall. He has a dark brown bed frame with a water bottle, a speaker, and an alarm clock on top. Beside his bed, there is a light brown cupboard full of records and a laundry basket stuffed with clothes- and above those, a shelf full of books with a single baseball hangs off the wall. 
There are many pictures of cars, airplanes, and turtles on the wall above his bed.
Kitchen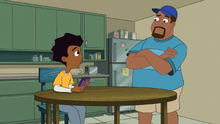 The kitchen has beige walls and a similarly colored ceiling, with a tiled floor. There is a row of green counters with white tops across one wall, and a matching row of cupboards above it. A silver refrigerator sits in the corner, and an oval-shaped wooden table with a wooden blue chair sits in the center of the room.
Many different boxes rest on the refrigerator, while a toaster sits on the counter.
History
In "Sunny Side Up". Zack is seen waking up in his room, only to see that the project he'd been guarding has been smashed to bits. It turns out it was just a dream.
In "Field of Screams", the kitchen is seen when Marcus tells Zack he doesn't think he could handle the farm chores. It is also seen later when Zack, Marcus, Eileen, Milo, and Melissa are all in the kitchen.
Gallery
Appearances
Season One
Season Two