"

I will be true,
For there are those who trust me.
I will be pure,
For there are those who care.
I will be strong,
For there is much to suffer.
I will be brave,
For there is much to be dared.

"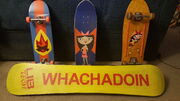 Who I Am
I'm nearly 60 years old.

I'm a crossover fan from Phineas and Ferb.
I've always liked cartoons, and have thousands of hours worth in my DVD library.
I do stay informed with current events and also enjoy historical documentaries, especially US history.

I'm also fascinated with the whole Titanic tragedy and have a pretty extensive collection of pictures, DVDs and books, and have a few minor artifacts.
I have a particularly deep interest in Ancient Egypt, own a ton of books on the subject and can read hieroglyphs and identify objects pretty well.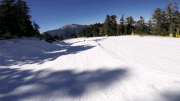 I skateboard and snowboard, a lot. I make my own skateboards and decorate them with various cartoon characters, (painted on the underside and with mosaic colored grip tape on top). I've had several renditions of Johnny Test's skateboard and Isabella Garcia Shapiro has appeared on more than one. I made a replica of Isabella's skate board that I keep as a decoration. (As a bachelor, I have free reign regarding interior design. My front room is decorated with many of my favorite old skateboards and snowboards.)
I play guitar, bass, ukulele, piano and electronic keys. I don't read music, I play by ear. I've learned to play a bunch of P&F songs. As of 5/28/17 I've figured out how to play the Milo Murphy's theme, "Don't Break Me", "Rooting For The Enemy", "I Want A Girl With A Suit Of Armor", "Llama Llama", "Substitute Science Teacher In Space" and "Murphy Family Vacation".
I also decorate 'T' shirts with cartoon characters and a favorite quote, that I wear when I skate.
My Dogs
When I was in grade school, a dog that had been hit and drug by a car found it's way into my family's back yard. My parents got him fixed up and me and my brothers took turns taking him to classes. I learned at an early age that there's something about me that dogs trust. I can pacify a frightened dog, I can fight off and even turn an attacking dog and I can coax a stray into my car. I routinely scoop up runaways and return them to their owners here in town.
I have never bought a dog or even gone shopping for a dog. The thought disgusts me for I know that in the USA the number of dogs destroyed is in parity with the number of dogs purchased.
I have had more dogs than I can count. Most I found as adults and only lasted 4 or 5 years. That was until these two.
Charly Dog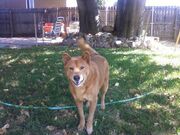 She was a stray puppy I came across at the county engineering building in down town Santa Ana. Several people were trying to catch her and I stopped to help thinking she belonged to one of them. As soon as I stooped down she ran right up to me and sat down. When I picked her up she immediately fell asleep. It took some convincing for the others to believe I had never seen her before. I had to take the day off work to get her checked by a vet and prepare my home. She got out of my backyard three times in the first two weeks but waited for me in the front yard.
She responds well to positive reinforcement and seems to know when she's being watched and will show off. She loves to play fetch, and she invented a game I call Charly Ball. It involves her setting the ball down somewhere on the grass, then she will go somewhere else on the grass and wait. If I can kick the ball past her with at least one bounce, she will go retrieve and bring it back. If it gets past her but doesn't bounce at least once on the grass she waits for me to go get it. If she catches it she sets up a different kick.
When I am the only person skating in the skate park she will follow me around, running up the walls, transferring spines and so forth.
As of August 22, 2017 I have had her 15 years. She isn't as spry as she was, but it seems she still has several years left in her.
Buddy Puppy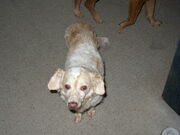 He was a stray that was creeping around a construction site in Coachella. He was afraid of everything and kept to the shadows. One afternoon he was scared out of a structure and ran right in front of me and headed out toward the open desert. I decided to try to catch him and took up after him. There were scattered patches of grass about shin high he had to maneuver around that I could easily step over, I was able to anticipate were he would go and gained on him quickly. He realized he was caught and suddenly stopped and laid down on his back and waited for what I'm certain he thought was his doom.
He was a wreck, malnourished and had been mauled by a bigger dog and he stank of rotting flesh.
Me and a co-worker fed him the meat and cheese from our sandwiches and left him a bowl of water under our truck. He was still there at the end of the day so I took him to a vet. I'm told he would have died that night if I hadn't grabbed him. They estimated him to be 3 years old. The vet donated her surgical skill and O.R. and it still cost me $700 in meds to get him in good enough shape to take him home.

On the afternoon of July 5, 2018 I discovered Buddy lying spread eagle on my back lawn. Though alive, he was unresponsive. He lived through the night but was very still. The vet believed he had suffered a stroke. He was euthanized the morning of July 6, 2018 by the same vet who had volunteered her surgical skill to save his life 15 years ago.
My Crafts
T-Shirts
Skateboards
Many of my skateboards have a nasty underbelly, too lewd for this forum. You can see them on Deviant Art, I'm Djahuti there too with this avatar.

My favorite pages
Community content is available under
CC-BY-SA
unless otherwise noted.